The modern struggles facing all of society of trying to inject the Christmas spirit into the season dominated harrowing by COVID-19 Pandemic news, can be viewed in a microcosm at Diocese of Venice Catholic schools.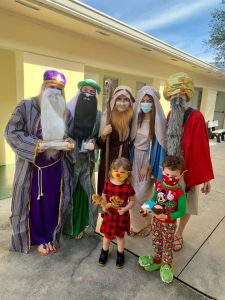 Appropriate time was taken out to have pre-Christmas festivities to ensure some light and festive moments took place in a socially distanced manner. At the same time, service projects took special meaning as items collected and distributed provided holiday cheer and kindness to others who may be alone or struggling this year.
St. Elizabeth Seton Catholic School celebrated "The Reason for the Season" at an outdoor Family Christmas Event on Dec. 11, 2020. There was a live student nativity, Christmas story narration, student decorated Christmas tree, lights, hot chocolate, goodies and fellowship. Donated gifts were gathered under the Christmas tree, destined for children at Our Lady of Guadalupe Parish in Immokalee.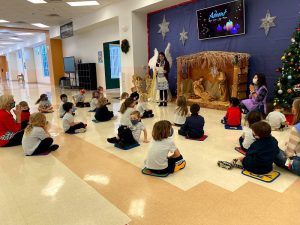 St. Martha Catholic School in Sarasota had students collect snacks and treats which were sent to military serving oversees in mid-December. Just before their holiday vacation, the youngest students participated in a special Christmas prayer service with religious songs before a large Nativity scene and concluded with a Christmas carol singalong. Meanwhile, some of the older students thought they were having a pop spelling quiz when instead the quiz papers became part of an outdoor "snowball" fight.'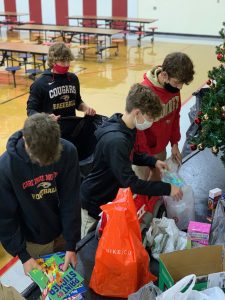 Also taking place in Sarasota, the Cardinal Mooney Catholic High School chapter of the St. Vincent de Paul Society collected new toys which students delivered just in time for Christmas to the pediatric ward of Manatee Memorial Hospital, Mothers Helping Mothers and Sarasota Memorial Hospital Center for Behavior Health. Stuffed animals were collected and delivered to the Sarasota Department of Children and Families. Meanwhile, the Cardinal Mooney students also provided gifts for the 60 residents of the Sunshine Meadows Nursing Home in Sarasota.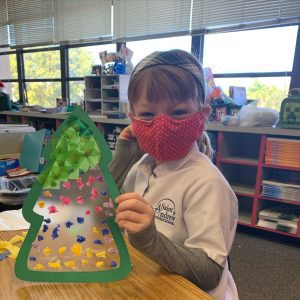 The students at St. Francis Xavier Catholic School National Junior Honor Society in Fort Myers helped to organize the collection of more than 700 gifts as part of the annual St. Nicholas Gift Drive to benefit Catholic Charities of Lee County. Students, along with help from the Knights of Columbus, provided warm coats for children in Bonita Springs. The children. in pre-kindergarten. had a special visit from Mary, Joseph and the Three Wise Men as they learned about the Miracle of the Christ Child.
Meanwhile, at St. Ann Catholic School in Naples, a pajama dress-up day helped to collect new pajamas for local children. Early in December, the students received a visit from St. Nicholas for a view of Santa's workshop as well as for fun and games.
Decorating is a big part of Christmas, so students at St. Andrew Catholic School in Cape Coral decorated their own "Christmas trees" in art class using various materials to create their tree and decorations.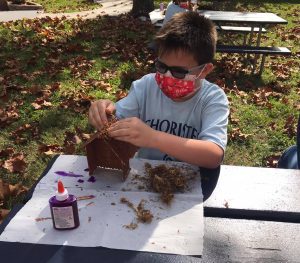 Construction was on the minds of students at St. Joseph Catholic School in Bradenton as they were asked to build their own crèche.
In lieu of in-person holiday concerts or presentations, many schools opted to pre-record performances and later shared the results for all to hear and see online.