Students from Cardinal Mooney Catholic High School in Sarasota started off Catholic Schools Week 2021 on Sunday, Jan. 31, by visiting and speaking before the faithful at Masses in different Parishes. At St. Catherine Catholic School in Sebring, the principal and select teachers and students were recognized during Masses on Jan. 31 as well.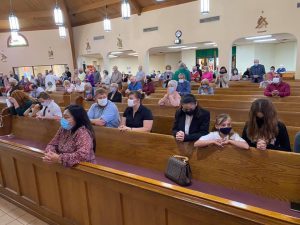 This was the start of a week celebrating Catholic Education at the 15 Catholic Schools in the Diocese of Venice. As the week progresses, there were days to celebrate the family, the community, the nation, vocations and more.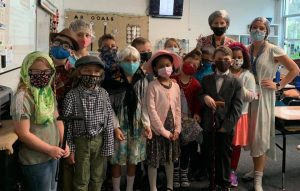 In a video message marking Catholic Schools Week, Bishop Frank J. Dewane said it is a fun and exciting time to celebrate Catholic Schools within the Diocese. "It is a celebration of the values and high standards that are part and parcel of Catholic Schools… Our Catholic Schools have been and will always be a place where they will learn about God's dream for them." (Bishop Dewane's Catholic Schools Week message can be found following this link https://vimeo.com/507098738.)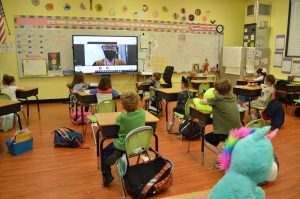 Epiphany Cathedral Catholic School students heard a video message from the Vice Mayor of Venice who proclaimed the week of Jan. 31-Feb. 6, 2021 at Catholic Schools Week.
Bishop Verot Catholic High School in Fort Myers started the week off with an Academic Awards A-Team challenge, a trivia competition with teachers in front of the entire student body on the football field.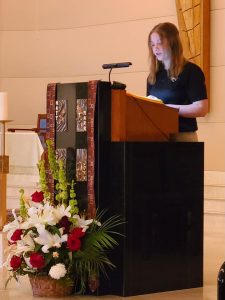 St. Francis Xavier Catholic School, also in Fort Myers, kicked off Catholic Schools Week with the celebration of the 100th day of school. Students were encouraged to either wear a shirt with 100 items on it, or dress like a 100-year-old.
Throughout the week, students will be participating in various projects to support the community including fundraising and collections to help Catholic Charities, veterans, homeless, those who are sick due to the COVID-19 Pandemic and much more.
Please check the Diocese of Venice Facebook page to follow some of these events and be sure to check the Feb. 12, 2021 e-Edition of The Florida Catholic for a complete wrap-up of Catholic Schools Week activities.