Wendy Shaver owns a small consulting agency, but her business has been closed since August when all of her clients went out of business due to impacts of the COVID-19 Pandemic.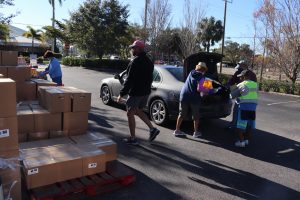 "It has been a very difficult time," Shaver said on Jan. 28, 2021 as she waited patiently for food that was being distributed  by members of the Sacred Heart Conference of the Society of St. Vincent de Paul in the parking lot of Sacred Heart Parish in Punta Gorda. "I never thought I would ever need food, but I was desperate as all of my savings are gone. This food will help me get by another few weeks."
The food is part of the regional Harry Chapin Food Bank mobile food pantry distribution and organized through the Charlotte County COAD (Community Organizations Active in a Disaster) Food Task Force. Distribution take place four times a month, twice at Sacred Heart Parish, and includes a food kit, with about 5 days of meals.
Paul Kaiser, President of the Sacred Heart Conference of the Society of St. Vincent de Paul, explained that a core group of volunteers ensures the bi-monthly food distribution takes place without a hitch. The Conference has also kept its offices near the Punta Gorda Airport open three days a week. On these days, food is distributed to 40 to 80 individuals and families, or up to 240 a week beyond those helped through the mobile food pantry. That compares to 150 assisted per month before the Pandemic.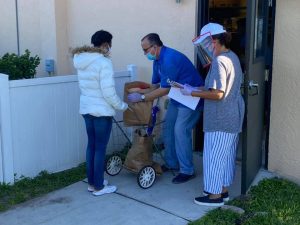 Meanwhile, at Jesus the Worker Parish in Fort Myers, the small food pantry there is officially open each Tuesday morning, but for families in need of assistance during off-hours, help is available.
"We help up to 100 families a week, but we support several hundred households regularly since not every family comes weekly – some come biweekly, or monthly, or only occasionally in an emergency situation," explained Father Patrick O'Connor, Oblate of St. Francis de Sales, Pastor of Jesus the Worker Parish.
The pantry receives food from the Harry Chapin Food Bank, as well as from MidWest Food Bank, but the Parish staff and volunteers must pick up its own food. The Parish also relies upon donations from the faithful within the community and from surrounding Parishes.
"The food pantry is a defining ministry in the Christian life of our community," Father O'Connor described. "Our people are proud of the work of our pantry and see it as an important part of our Catholic identity as a Church community, fulfilling one of the great mandates of love of Jesus – to feed the hungry. One might think that such a ministry would be a drain in the community, but quite the opposite, it draws people to our community, and it is life giving."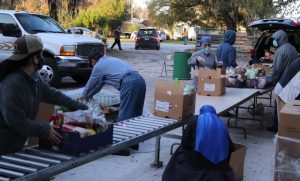 The food pantry at St. Michael Parish in Wauchula also remains very busy. The weekly distribution early Saturday mornings begins before sunrise and is over by 9 a.m. The food comes from various sources, including parishioners, the All Faiths Food Bank in Sarasota, Catholic Charities, Diocese of Venice, Inc., and other churches.
Sister Maria Madre de le Alborada Quizhpe, Sister Servant of the Lord and the Virgin of Matara, who organizes the weekly distribution, said the number of families seeking help each week remains high at 200 or more. That is only slightly less than the peak immediately after the Pandemic began.
"There are many who are out or work or working less, so the need is there and they come to St. Michael's for help," Sister Alborada said, noting that the farming community has been impacted hard by the pandemic as crops are smaller because demand is less. Because of the different sources, the food distributed in Wauchula is a mix of fresh vegetables, frozen meat, bread and essentials, such as beans and rice. When possible, candy is added for the small children.
In Wauchula, as is the case in Punta Gorda and Fort Myers, the food distribution relies on a core group of volunteers who work during the distribution or in advance to help prepare the food. They also each rely on the generosity of those individuals who are not facing as much of an impact during the Pandemic as others.
"People have been generous, and it is making a big difference," Sister Alborada said. "But the demand is still here."
How to support or volunteer at a food pantry
Sacred Heart Conference of the Society of St. Vincent de Paul, visit https://www.svdp-dov.org/sacred-heart/, call 941-575-0767 or write to 25200 Airport Road, Punta Gorda, FL, 33950.
Jesus the Worker Parish food pantry, call 239-693-5333, or write to 881 Nuna Ave., Fort Myers, FL 33905.
St. Michael Parish, call 863-773-4089, or write to 408 Heard Bridge Road, Wauchula, FL 33873.
Another way to help
Walk for the Poor
The 12th annual Walk for The Poor to support the Charlotte County Conferences of the Society of St. Vincent de Paul, is 9 a.m., Feb. 13, 2021, at the Laishley Park Pavilion in Punta Gorda (registration begins at 8 a.m.). Each year, the Society of St. Vincent de Paul hosts the Walk for the Poor to raise funds and to increase awareness of the needs of the less fortunate living in our Charlotte County community.
The walk will proceed along the Trabue Harbor Walk or the northbound U.S. 41 bridge, if preferred. For more information call: 917-549-0555; to register or donate visit our website at https://svdp-dov.org/charlotte and click on Walk for the Poor.