Jeanne Berdeaux, Diocese Respect Life Director
Venice – "Christ Our Hope in Every Season of Life" is the theme of the new Respect Life annual program from the United States Conference of Catholic Bishops' Secretariat of Pro-Life Activities. Each year American Catholics recognize the first Sunday in October as Respect Life Sunday and the entire month of October as Respect Life Month. A theme is chosen for reflection throughout the year until the next Respect Life Month. As the Respect Life Reflection for the year states, "While every season of life brings its own challenges and trials, each season also gives us new opportunities to grow in our relationship with God."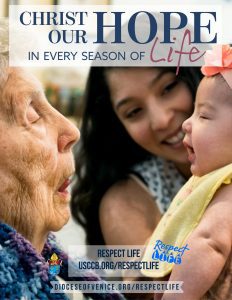 This year the Diocese of Venice has its own special poster, beautifully depicting the "seasons" of life, from beginning to end. Go to https://dioceseofvenice.org/diocese-of-venice-respect-life-image-gallery/ to download a copy to post on your refrigerator or other convenient place to remind yourself to pray for a greater respect for all human life, from conception to natural death, regardless of age or condition.
Take some time to explore the resources which are available at www.respectlife.org. There you will find 10 articles on various topics and 5 Action Guides with activities that can be done in the parish, classroom or home, centered on dates with special significance throughout the year. For example, do you have an ultrasound of your child, grandchild or great-grandchild? Has that child ever seen it? Show your loved one that "It's me" in the womb just as much as it's "Still me!" after birth. Do you have a collection of prayer cards from funerals of family members or friends?  Why not put them together in a tribute to your loved ones?
Remember that our Diocese has a special collection on Respect Life Sunday to supplement the work that the Respect Life Office does and assist other pro-life organizations. These funds help to bring the respect life message to young people and adults through various learning opportunities such as Catholic Days at the Capitol, the annual statewide Respect Life Conference and chastity presentations in our Catholic schools. Please share your financial blessings to keep this message in front of our youth.
The international 40 Days for Life fall campaign runs throughout October (Sept. 25-Nov. 3). Join others from your church or bring a friend to pray and witness to life in front of Planned Parenthood in Sarasota, Fort Myers or Naples this fall. For details, go to www.40daysforlife.com and look for the location nearest you.
There are pregnancy help centers, maternity homes and after-birth homes throughout the Diocese offering hope and help to women and children in need. Go to www.dioceseofvenice.org/respectlife and click on the "Pregnancy Resources" box for an agency near you that could use a few hours of your time or whatever help you can provide.
On the same website, under the "Project Rachel" tab, you can learn more about how anyone touched by abortion in any way can seek help and healing, or call Sylvia at 941-412-5860 for confidential help, whether it is a retreat or just someone to listen to your story.
As the USCCB reflection for the year says, "May we hold fast to Christ our hope, from the beginning of life to its very end."
If you have questions, comments or ideas, contact Jeanne Berdeaux at the Diocesan Respect Life Office, Berdeaux@dioceseofvenice.org or 941-441-1101.
Upcoming "UNPLANNED" Movie Showings
Thanks to the support of the Diocese Respect Life Office, many local parishes will be hosting screenings of the blockbuster movie "UNPLANNED" about an abortion industry worker who stepped away when she saw a live abortion. The film will be shown at the following parishes:
7 p.m., Oct. 8, St. Raphael Parish, 2514 Lee Blvd., Lehigh Acres, 239-369-1831;
9:30 a.m., Oct. 9, or 6:30 p.m., Oct. 16, St. William Parish, 750 Seagate Drive, Naples, 239-261-5831;
7 p.m., Oct. 9, St. Agnes Parish, 7775 Vanderbilt Beach Road, 239-592-1949;
6 p.m., Oct. 9, Our Lady of the Miraculous Medal Parish, 12175 Stringfellow Road, Bokeelia, 239-898-0687;
7 p.m., Oct. 11, St. Jude Parish, 3930 17th St., Sarasota, 941-955-3934;
6:30 p.m., Oct. 10 and 12:30 p.m., Oct. 13, Resurrection Parish, 8121 Cypress Lake Dr., Fort Myers, 239-481-7171;
10:00 a.m. Oct. 10  and 7 p.m., Oct. 29, Our Lady of Light Parish, 19680 Cypress View Dr., Fort Myers, 239-267-7088;
7 p.m., Oct. 11, and Oct. 18, St. Maximilian Kolbe Parish, 1441 Spear St., Port Charlotte, 941-284-2388;
3 p.m., Oct. 17, St. Therese Parish, 20115 N. Tamiami Trial, North Fort Myers, 239-567-2315;
6 p.m., Oct. 18, St. Charles Borromeo Parish, 21505 Augusta Ave., Port Charlotte, 941-585-0668;
1:30 p.m., Oct. 20, Ave Maria Parish, 5068 Annunciation Circle, Ave Maria, 918-355-2319;
6:30 p.m., Oct. 25, Epiphany Cathedral, 310 Sarasota St., Venice, 941-485-2325;
6 p.m., Oct. 3, San Marco Parish, 851 San Marco Road, Marco Island, 239-259-0936;
3 p.m., Nov. 3, St. Joseph Parish, 3100 26th St. W., Bradenton, 941-345-6833;
6 p.m., Nov. 5, Our Lady of Lourdes Parish, 1301 Center Road, Venice,  941-408-6072;
7 p.m., Nov. 8, St. Isabel Parish, 3559 Sanibel Captiva Road, Sanibel, 239-395-2975.