Dr. Denny Denison, Bishop Verot Catholic High School
Fort Myers – Bishop Verot Catholic High School first opened its doors in 1962 as the only Catholic school in southern Florida. Through the years much has changed – the installation of air-conditioned classrooms, construction of new buildings, the transition away from hardback books, notebooks and pencils, but our philosophy remains the same.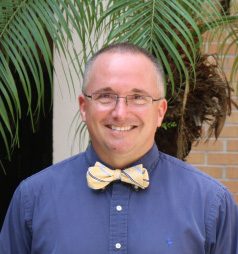 In today's world, we understand the importance of change while standing firm on our core beliefs. Our motto, Non Excidet, translates as We Will Not Fail, and Verot is committed to this motto by empowering every student who walks through our doors to be the best they can be.
Parents throughout Southwest Florida have chosen Verot for a variety of reasons. Our mission exceeds expectations as we strive to build relationships centered on faith, learning and leadership devoted to educating the whole person, utilizing innovative technologies, empowering students through collaborative experiences, and cultivating a spirit of service grounded in our relationship with Jesus Christ. Our families have done their research and they know that four years at Bishop Verot High School will prepare their children well for what lies ahead.
In four short but memorable years, the student body of more than 700 students will learn diverse subjects at the honors, advanced placement (AP) and college prep levels. Courses such as engineering, marine biology, forensic science, computer science and video production aid students in discovering their passion.
As an Apple Distinguished School, both teachers and students embrace 1:1 iPad technology to take learning to new heights. With the integration of SARA – an intensive test preparatory program – into our faith-based curriculum, students perform at higher levels for the SAT and ACT. Our students' positive experience and academic success inside and outside the classroom have resulted in 99 percent of graduates matriculating into four-year colleges and universities and more than 50 percent earning a Florida Bright Future Scholarship.
While rigorous academics are essential to future success, it is the development of the whole person that sets Verot apart from other schools in Lee County. New students, families and guests are introduced to the Viking commitment to selfless service, to one another, and to our Catholic Faith from the very moment they enter our campus. From the very first day freshmen step on the Bishop Verot Catholic High School campus, our Vikings know they are part of the Verot family. The excitement of starting a new school year is infectious as the Viking cheerleaders greet students on their first day and senior leaders offer a welcome making sure the newest family members are ready for success.
Ask any Verot alumni their favorite memory of Verot, and the number one response will be the Freshman Retreat. Led by Verot's seniors, the Freshman Retreat solidifies our family by creating life-long bonds with fellow classmates and upperclassmen. Seniors and freshmen work side-by-side to serve meals, conduct hard labor and offer basic care and companionship to the most impoverished people in our community. The Retreat culminates with a candlelight gathering around the Most Blessed Sacrament in prayer.
Learn more about what it means to be a Viking by visiting bvhs.org or call 239-274-6700.
Dr. Denny Denison can be reached at denny.denison@bvhs.org.