The Christmas Season is a time to celebrate the Birth of Jesus Christ and an opportunity to let the light of the Lord shine forth from within.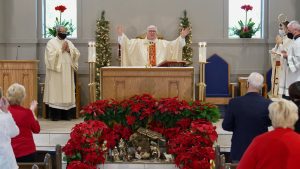 Celebrations abounded throughout the Diocese of Venice with Christmas Eve and Christmas Day Masses bringing in the number of faithful not seen since before the start of the global COVID-19 Pandemic.
Bishop Frank J. Dewane recorded a Christmas Day Mass for broadcast on TV to the homebound and also offered a livestream Mass from the Catholic Canter in Venice on Christmas Day.
The message of Bishop Dewane was of hope, not only of the news that vaccines are being distributed, but the "hope that God gave us in sending His Son into the World. That is what we celebrate today… Allow Christ to be the light in your life."

Aside from the decorated altars, behind the scenes it was the Faithful who magnified the light of Christ through their generosity in supporting those in the community who are less fortunate.
To reach as many children as possible, while still staying safe, St. Margaret Parish in Clewiston, distributed gifts during smaller celebrations throughout December. Each child also received a t-shirt with an image of Jesus embracing a child and the name of the Parish. In all, some 500 children received gifts.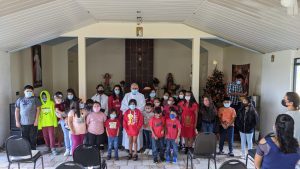 At St. Jude Parish in Sarasota, Pastor Father Celestino Gutiérrez helped to distribute toys and food for 58 families at the Myakka Mission for Migrants brings smiles to the faces of 118 children.
Donors from across the Diocese brought holiday cheer to children at St. Michael Parish in Wauchula, where gifts were distributed following an outdoor Nativity Play on Dec. 19, 2020. In addition to the gifts, the young children of the Parish also received jackets, donated by the Knights of Columbus from Our Lady of the Angels Parish in Lakewood Ranch.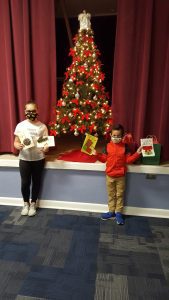 Those in religious education classes at Sacred Heart Parish in Punta Gorda, who usually visited nearby assisted living facilities, turned their disappointment into activities which included handmaking Christmas cards and creating gift bags for residents. The youth created videos of Christmas Carols that were shared with the residents and posted to social media.
Donations not only came from Parishes and the faithful, but from inspiring children who wanted to help kids like themselves.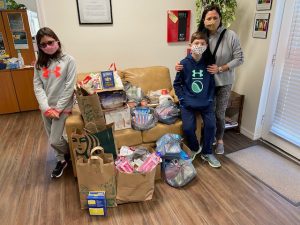 For example, Renata, Milena and Tyler, along with their friends, all from the Vilano Community in Sarasota, pooled their lemonade stand money to buy necessities and donate them to the mothers at Our Mother's House in Venice, a residential and support program of Catholic Charities which assists single mothers and their children who might otherwise be homeless.
One young girl from Fort Myers, 5-year-old Chandler Ciccarello, first went to friends and then went on social media to raise money so she could use the money, with the help of her mom, to buy gifts for area needy children. In the end, more than $4,000 was raised and gifts were purchased for 400 children and donated to Catholic Charities of Lee County. Originally the idea was to buy bicycles for children and enough was raised that all children who asked receive a bicycle for Christmas courtesy of Chandler.
These are but a few examples of the spirit of Christmas which spread across the Diocese of Venice this Holiday Season.