While the faithful sang music proclaiming the arrival of Jesus Christ at Christmas and the three kings at the Epiphany, a Eucharistic Procession circled the property of St. Elizabeth Seton Parish and Catholic School in Naples.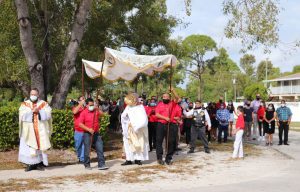 This procession took place on the Solemnity of the Epiphany of the Lord (Jan. 3, 2021), with Bishop Frank J. Dewane carrying the monstrance, and served as the opening of two days of celebrations in honor of the Feast Day of St. Elizabeth Seton on Jan. 4, 2021.
Carey Ford said it was wonderful to take part in a traditional Eucharistic Procession, bringing her back to her youth when her home Parish in Ohio had such public displays of Faith several times a year. "We are out here to honor Christ, something St. Elizabeth Seton did in the way she lived her own life. Also, everyone can see who we are as Catholics, particularly at a time when many are staying away, whether from the pandemic or for other reasons."
St. Elizabeth Seton is patroness of Catholic schools, seafarers, those rejected or persecuted for their faith, orphans and widows and was the first native-born American to be canonized by the Catholic Church. Bishop Dewane noted that the Lord spoke to her at different points in her life as a wife, mother, widow, religious and teachers.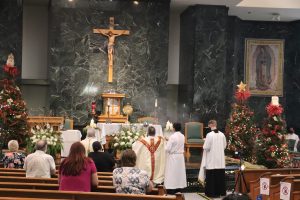 "The Lord called her through different moments of her life and despite many hardships which could have turned her attention away she didn't forget about the call of the Lord," the Bishop said. "Just as the three kings followed a star at the Epiphany, she followed a star and once she received the gift of Faith, it was Christ and the Lord who brought her through the stages in her life to ever more profoundly encounter Him. As St. Elizabeth Seton did, we must open ourselves up to be accessible for an encounter with the Lord."
St. Elizabeth Seton Parish Administrator Father Casey Jones led adoration in the church following the Eucharistic Procession. For the Feast itself, a relic of St. Elizabeth Seton was on display and the church was open to silent prayer.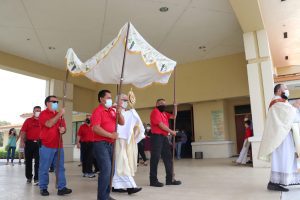 St. Elizabeth Seton was born before the American Revolution and grew up in New York as part of a prominent Episcopalian family. She married in 1794 and had five children. Discovering Catholicism while in Italy, where her husband died, she eventually returned to the U.S. and entered the Catholic Church in 1805. Later, she moved to Emmitsburg, Maryland, where she entered religious life and founded the Sisters of Charity of St. Joseph, the first community for religious women established in the U.S. She also began the first free Catholic girl's school in the country, which formed the foundation for the modern Catholic education system. She died in 1821 and was canonized on Sept. 14, 1975.