Staff Report
6/18/19
Every year since the inception of the Coalition for Life in 2007 the Diocesan Respect Life Office has brought leaders together annually in the spring for updates, networking and to provide input on future activities.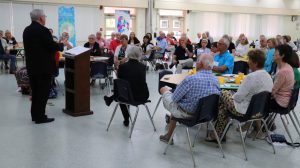 Parish Respect Life Representatives (designated by Pastors), Knights of Columbus Culture of Life Chairmen, Council of Catholic Women Representatives, and others interested in serving, gathered June 2 at St. Charles Borromeo Parish in Port Charlotte. Those gathered enjoyed their time with like-minded people who dedicate themselves to building a Culture of Life in the Diocese of Venice.  Some attendees have been volunteering for 30 or more years while others have recently felt called to do something to promote a greater respect for life.
Diocesan Respect Life Director Jeanne Berdeaux gave a brief overview of the pro-life strategy outlined by the U.S. Bishops. She celebrated the previous 12-months of activities with a PowerPoint presentation that included pictures from key events such as the State Respect Life Conference that the Diocese hosted in the fall of 2018, 40 Days for Life, and Prayer Walks for Life in four locations, the March for Life in Washington and Catholic Days at the Capitol in Tallahassee.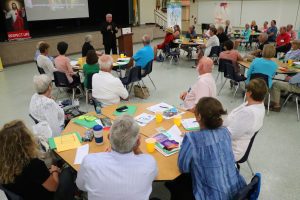 Looking ahead to the coming year, she announced that the movie UNPLANNED is due to be released on DVD and streaming in mid-August, providing a powerful tool for pro-life education.  The dates for Catholic Days at the Capitol in Tallahassee were announced:  January 28-30, 2020.  The three-day bus trip will be earlier since the Florida Legislative Session runs from January to March in even years, allowing legislators more time for campaigning in the summer and fall leading up to the 2020 elections.
Berdeaux also noted that there are excellent speakers available to present on a variety of life issue from conception to natural death. She also noted that video presentations from the 2018 Florida Respect Life Conference and events on the death penalty and other issues are available online at www.dioceseofvenice.org/respectlife.
Bishop Frank J. Dewane addressed the group and specifically spoke about the ramifications of recent events in states across the country with laws being enacted, both pro-life and pro-abortion, in anticipation of the day when the infamous Roe v Wade might be overturned by the U.S. Supreme Court, sending the issue back to the states. Bishop Dewane pointed out that Florida will still have a problem because of the privacy clause that was added to the State Constitution in 1980.
Attendees were given a new brochure explaining the Florida privacy clause and how this might impact any future legislation (available on the Florida Conference of Catholic Bishops at www.flaccb.org/culture-of-life). A short video and other important resources which further explains the issue are also on the site.
Janine Marrone, founder of Luncheons 4 Life and member of Our Lady of Lourdes Parish in Venice, shared with the group a special project that shows 30-second videos promoting pregnancy help centers and adoption to young women via YouTube and other social media, helping them to look at a difficult situation from a pro-life perspective.
Project Rachel Coordinator Sylvia Jimenez shared information and stories to highlight the need to be sensitive when talking about abortion with others as there could very well be women or men listening who have been hurt by abortion.
One of the most important and fun parts of the day was the time spent in round-table discussions with others sharing what they are doing in their local area.
For information on how you can become involved of pro-life activities in your parish or the Diocese, please contact Jeanne Berdeaux at 941-374-1068 or Berdeaux@dioceseofvenice.org.