College and university admissions counselors gathered in the gym at Cardinal Mooney Catholic High School's on-campus college fair on March 3, 2022, to meet one-on-one with students from the junior class.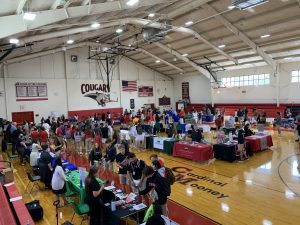 From small colleges far away to large local universities, students were able to ask questions of 51 different representatives from across the United States.
Navigating the college application and admission process can be a daunting task, but Cardinal Mooney's Senior Academic Advisor Ann LaFemina has been at Cardinal Mooney for five years to help bridge that gap. She organized the event at Cardinal Mooney so students could meet with representatives to learn more about what opportunities are available to students.
"Since Cardinal Mooney is a college preparatory school, hosting a college fair on campus allows our students to speak directly with colleges as well as gain early access with admissions personnel to further their identification of colleges with which they best align themselves," said Ann LaFemina.
Cardinal Mooney juniors also had the opportunity to take a three-day bus tour of 10 colleges and universities in Florida in February. Forty-five students visited small private colleges like Lynn University and Stetson University as well as large public universities like the University of Florida and University of Central Florida during a whirlwind tour.