The gathering of married couples for a Mass is a time of celebration and reflection.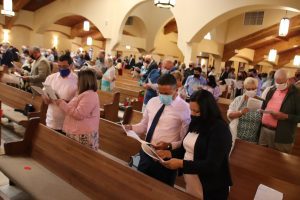 The celebration of their achievement of commitment and living out the Sacrament of Holy Matrimony came in the form of the annual Diocesan Masses honoring couples celebrating significant wedding anniversaries. The time for reflection came afterwards when the massive number of years the combined couples have been married was announced: 14,747.
Bishop Frank J. Dewane presided over the second pair of Diocesan Anniversary Masses on March 6, 2021 at St. Leo the Great Parish in Bonita Springs noting that the event is a favorite, one he looks forward to each year.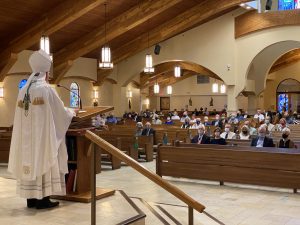 "The view from my position is inspiring to me and to others who are in awe of the accomplishment you have achieved," Bishop Dewane said. "You are living examples of the graces of love, fidelity, kindness and fruitfulness bestowed upon you by Christ. I honor you, and the Church honors you as witnesses to a beautiful vocation which younger generations see and admire."
Some 170 couples attended the two at Masses at St. Leo the Great. The longest married couple present was Vincent and Teresa Principe of St. Peter the Apostle Parish in Naples. On May 13, 2021, they will celebrate 70 years together.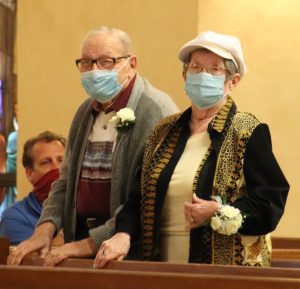 Paul and Mary Schmidt of St. John the Evangelist Parish in Naples have been married 50 years and were impressed to see other couples married much longer. "I thought we reached a big milestone," Mary Schmidt laughed. "We have some work to do to get to that many years, but I think we have a chance."
That chance is because the couple works daily to keep their marriage strong. They have four children and four grandchildren who look up to them for guidance regarding many things, with marriage being one.
"We have overcome our struggles through our faith in the Lord and our trust in each other," Paul Schmidt said. "Without those, you don't stand a chance."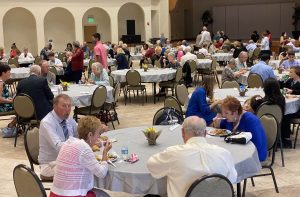 Masses are celebrated each year in the northern and southern sections of the Diocese of Venice so as to accommodate those wanting to attend. In 2021, extra Mass were scheduled to allow for social distancing due to the COVID-19 Pandemic. The first two Masses were celebrated Feb. 6 at Epiphany Cathedral in Venice.
During the Mass, the married couples renewed their wedding vows. In addition, each couple was presented with commemorative certificates, signed by the Bishop, for their enduring commitment to marriage.
A reception followed the Mass with lunch and the opportunity to have complimentary pictures taken with the Bishop in the Parish Hall.