Bishop celebrates Mass at Donahue Academy
Bishop Frank J. Dewane continued celebrating Mass for students in Diocese of Venice Catholic schools with the latest stop on March 16, 2021, at the Donahue Academy of Ave Maria. During these Masses, Bishop Dewane stressed how the Lenten Season is a time for prayer, fasting, and almsgiving as we prepare to celebrate the Paschal Mystery of our Faith.
Religious education group makes lunches for homeless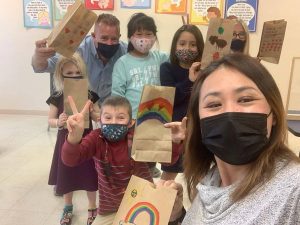 The St. Martha Parish religious education program and service club in Sarasota took part in a "It takes and village – Made with love," project on March 9, 2021 to make bag lunches for the homeless in the area.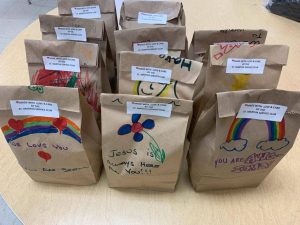 Each bag included a colored drawing and inspirational message, as well as a sticker that read: "Made with love & care by the St. Martha Service Club."
Divine Mercy Sunday Prayer Service
On Divine Mercy Sunday, April 11, 2021, everyone is invited to participate in a Prayer Service for Forgiveness and Healing from Pregnancy Loss. The service will take place from 2:30-3:30 p.m. at Epiphany Cathedral, 350 Tampa Ave. W., Venice, and will be available for viewing online at www.facebook.com/DioceseofVenice. Contact Sylvia at 941-412-5860 or project.rachel@dioceseofvenice.org for any questions.
Divine Mercy Sunday in Naples
Come to the Feast of Divine Mercy as St. William Parish, 601 Seagate Drive, Naples, celebrates with a special service from 2:15-3:30 p.m., Divine Mercy Sunday, April 11. The service will start with the rosary, exposition of the Blessed Sacrament, chanting of the Divine Mercy Chaplet, a reflection on Divine Mercy followed by Benediction. All are welcomed. For information, please contact Fred or Barb Goduti at 239-261-4810
Parent cyber security event in April
The Diocese of Venice Offices of Family Life and Religious Education are hosting a free parent event "Protecting God's Children Online in a Hyper Digital Age." Cyber security expert Liz Repking will cover keeping kids safe from cyber bullying, online predators, sexting, online gaming, and how to help children create an escape plan when trouble arises. Two opportunities to attend: April 14, 2021 at Our Lady of Lourdes Parish, 1301 Center Road, Venice, and April 15 at St. Francis Xavier Parish, 2057 Cleveland Ave., Fort Myers. Both presentations are from 6:30-8 p.m. There is no cost. Registration is required for planning purposes by April 10 at
https://dioceseofvenice.regfox.com/protecting-gods-children-online-in-a-hyper-digital-age.
Marriage prep retreat for couples over 55 in April
The Diocese Office of Family life is hosting a one-day sacramental marriage preparation retreat for those couples over 55 years of age preparing for marriage or convalidation from 9 a.m.-5 p.m., April 24 Our Lady of Lourdes Parish, 1301 Center Road, Venice. Lunch is included. Preregistration is required at https://dioceseofvenice.regfox.com/two-become-one. The program builds an appreciation for the joy of sacramental marriage while offering insight and tools to address the unique challenges and responsibilities.
Shifting from Condemnation to Compassion
Do you know someone who has had an abortion?  Chances are they don't know where to go for help.  Have you ever heard someone condemning a person for having an abortion?  The Church does not condemn them; we welcome them and want to help them with compassion and healing that will change their lives.  In our diocese, Project Rachel, the Church's healing after abortion outreach, is partnering with Support After Abortion, a new worldwide networking organization that sees healing as a necessary part of ending the demand for abortion. Change the way you see Pro-Life.  Go to https://supportafterabortion.com/shifting-from-condemnation-to-compassion/ to read an article that will give you a new perspective. Questions?  Contact Sylvia at 941-412-5860 or project.rachel@dioceseofvenice.org.