In order to sit at the table of the Lord, we must all make sacrifices.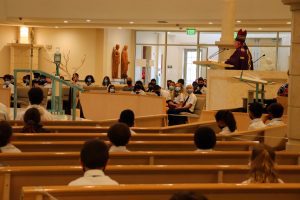 "The challenge is to do what Christ asks," Bishop Frank J. Dewane told students during a number of Lenten Masses he celebrated at schools throughout the Diocese of Venice in early March. "We need to take seriously our prayers, fasting, and almsgiving, following the example of Christ."
Just as Christ served as our Savior, so must we all go out and serve our brothers and sisters in need. "It is the Lord who asks you to respond to this call," Bishop Dewane continued. "It is not always easy, but this is a time of sacrifice, and Lent is the perfect opportunity to respond and live out that call to serve others as Children of God. Can you do that?" The students at each Mass gave a resounding: "Yes!"
Each Lent, Bishop Dewane takes the time to celebrate Mass at as many Diocesan Catholic schools as possible. The goal is not only to highlight the importance of the Lenten Season, but to also show support for the students and schools as they continue through their academic year.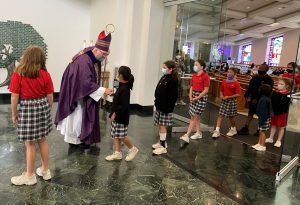 After each Mass for elementary schools, the Bishop met privately with the eighth graders. First encouraging the group to continue their education at a Diocesan Catholic high school, and then Bishop Dewane also fields any and all questions from the students.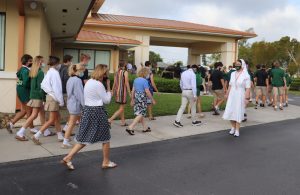 The Bishop celebrated Masses for students at St. John Neumann Catholic High School and St. Ann Catholic School in Naples on March 3, 2021; for St. Elizabeth Seton Catholic School in Naples on March 4; and then for St. Charles Borromeo Catholic School in Port Charlotte on March 5. Additional Masses will take place later in March.