Confessionals will open for extended hours throughout the Diocese of Venice in late March to allow everyone ample opportunity to receive God's Mercy through the Sacrament of Reconciliation.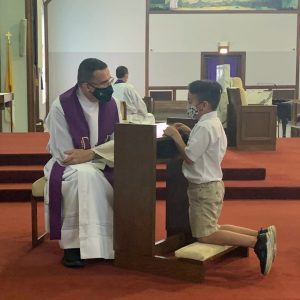 In consultation with the Diocesan Presbyteral Council, Bishop Frank J. Dewane has designated the following days and times for Confession at EACH Parish: 4 p.m. to 8 p.m., Friday, March 26, 2021, and 9 a.m. to 12 p.m., Saturday, March 27.
This Diocesan-wide opportunity for Confession has been made available each Lent since 2012. These times are offered in addition to already scheduled Parish Confession times or planned Penance Services.
The precept of confessing grave sins and receiving Holy Communion at least once during the Lenten Season merits a reminder to all to take advantage of this opportunity.
Pope Francis often speaks about the healing benefits of the Sacrament of Reconciliation, saying that he goes about once every two weeks. "When I go to confession," the Holy Father added," it is in order to be healed, to heal my soul, to heal my heart and to be healed of some wrongdoing."
The Pope also reminds us no one is free from sin and that feeling a little "ashamed before God is a grace… Going to confession is going to an encounter with the Lord who forgives us, who loves us and our shame is what we offer him… When one is in line to go to Confession, one feels all these things, even shame, but then when one finishes Confession one leaves free… forgiven, happy. This is the beauty of Confession! Jesus is there…and He receives you with so much love!"
As the Catechism teaches, the priest is acting in Persona Christi (in the person of Christ), within the confessional. So, like presenting oneself at the altar to be nourished by Christ in the Eucharist, a person going to Confession, is not ultimately confessing to a priest, but confessing to and receiving forgiveness from Jesus Christ.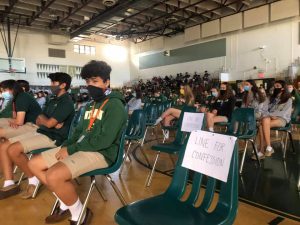 It was Christ who desired that the faithful "receive forgiveness by means of the ministers of the community," Pope Francis continued. And it is Christ "who gives this power."
The Pope notes, through the presence and words of a priest, penitents have "the certainty of forgiveness in the name of the Church…this is having the surety that God forgives us always. He never tires of forgiving us and we must never tire of going to ask for forgiveness."
Reconciliation in Schools
For the same reasons, Diocese of Venice Catholic Schools have been setting aside time to make the Sacrament of Reconciliation available for students.
For example, at St. John Neumann Catholic High School in Naples, the student, faculty and staff participated in a Lenten Penance Service on Feb. 23. Many of the students took advantage of the opportunity to go to confession with one of the several priests present.
Three priests were available to hear confessions from second and third graders March 4 at St. Andrew Catholic School in Cape Coral. In addition, numerous students from St. Martha Catholic School and St. Mary Academy in Sarasota received the Sacrament for the first time on March 7.