A steady stream of the faithful at Incarnation Parish in Sarasota waited patiently for their opportunity to take part in the Sacrament of Reconciliation on the last weekend before Holy Week.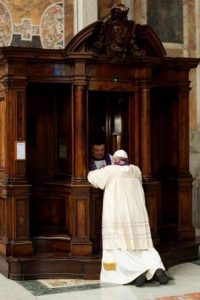 This scene was repeated at Parishes throughout the Diocese of Venice after Bishop Frank J. Dewane, with the agreement of the Presbyteral Council, designated the evening of March 26, 2021 (4-8 p.m.) and morning of March 27 (9 a.m.-noon) as universal times for Confession at each Parish. This was done to allow the faithful ample opportunity to receive God's Mercy through the Sacrament of Reconciliation in the Lenten Season.
Parishes reported a steady stream of people during both sessions with extra priests made available to ensure wait times were limited.
Brenda Forrester tries to go to Confession regularly but the Pandemic and a general fear of being around people had prevented her from availing herself of this healing Sacrament.
"I felt empty when I wasn't going," Forrester said. "After going tonight, I felt the burdens lifted from my shoulders and the Mercy of the Lord wash over me. I feel refreshed."
Pope Francis often remarks about the healing power of the confessional and urges the faithful to go as often as possible. Parishes and Missions in the Diocese of Venice have regular reconciliation times throughout the year, please visit www.dioceseofvenice.org for contact information for the Parish or Mission nearest you.