When the Diocese of Venice set aside March 6-7, 2021 as Safe Haven Sunday so as to provide informational materials to address the harmful effects of pornography on youth marriages and families, it was only natural that there would be a call for more help on this difficult issue.
In response, the Diocese Offices of Family Life, Religious Education and Catholic Schools recently brought in Liz Repking, founder of Cyber Safety Consulting, to address parents, religious educators, and principals through a series of workshops.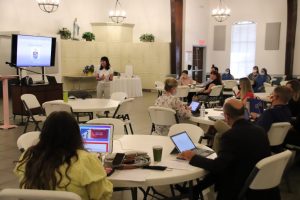 Speaking from personal experience through her work, as well as a parent of three, Repking said her presentations had the goal of educating parents, children, and educators on the safe, savvy, and ethical use of the digital world with a total of five presentations before more than 150 people.
The parent workshops, April 14, at Our Lady of Lourdes Parish in Venice, and April 15 at St. Francis Xavier Parish in Fort Myers, were titled, "Protecting God's Children Online in a Hyper Digital Age." Repking spoke about keeping children safe from cyber bullying, online predators, sexting, online gaming, and how to help children create an escape plan when trouble arises.
Safe Haven Sunday provided basic tools and practical tips for adults to create a safer digital environment for themselves and their children. Questions from Repking's presentation focused on how to set limits while children are online and maintain an openness if trouble arises and encouraged a parent to be available to respond. Religious educators at the workshops sought a way to help guide their young students in becoming better digital citizens.
Repking explained how many teens freely share personal information as well as images or videos of themselves to others, whether they are real friends or "online friends," not really knowing how that information is going to be used.
"Young people do not have the skills to developmentally manage the abstract thinking needed to address the issues they face online each day," she said. "They don't understand the consequences of their actions or the foreverness of the internet."
Repking shared a disturbing story about her own daughter's encounter with an online predator who used innocuous, but common tactics to become online friends with the teenage girl while attempting to learn more and more information. Fortunately for Reking's daughter, this conversation was stopped before anything more serious could happen; it serves as an object lesson for others.
"She even told this person, who purported to be a girl her same age, that her mother is a cyber security person who told her not to share information or pictures," Repking said. "But he kept pressing, and coercing, and trying to get more and more information. That happened to my daughter," she said as she showed images of the text exchange. "She knew better. What happens to the others who don't know any better?"
Workshops specifically for Catholic school principals and Parish religious education directors were held April 14 at St. Cecilia Parish in Fort Myers, April 15 at Incarnation Parish in Sarasota, and April 16 at Our Lady of Light Parish in Fort Myers.
The presentation topics were similar to that of the parent workshop but Repking also shared her efforts to create curriculum for students in Dioceses and school districts around the country. This work focuses on helping young people approach online usage through a moral and value perspective, providing lasting life skills.
Father John Belmonte, SJ, Diocese of Venice Superintendent of Catholic Schools, said Repking's presentation was a natural follow-up to Safe Haven Sunday and moves the Diocese forward with the possibility of bringing the in-school program to the Diocese in the coming year. "There is so much out there that needs to be addressed in helping to develop our students to be faithful and prudent online users."
Several religious education directors noted during and after the presentations the challenge they face in trying to get their students to understand the dangers of online usage (predators, cyberbullying, identity theft, and more). It was noted by several that hearing Repking was beneficial in guiding them and adding they hope to receive additional information and training in the future.