"A Seminarian Story" ninth installment available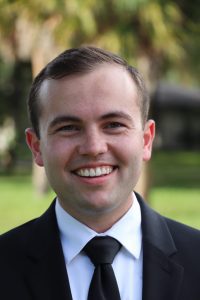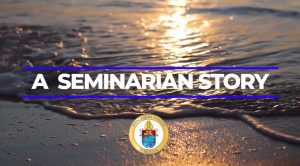 The Diocese of Venice in Florida Office of Vocations launched a video series titled, "A Seminarian Story," to celebrate the 16 Seminarians currently in formation for the Diocese. The first eight videos have been released and more will follow approximately every few weeks. The most recent video features Seminarian Jacob Gwynn who is in formation at St. Vincent de Paul Regional Seminary in Boynton Beach. Developed with the assistance of the Diocese Communications Department, the goal of the series is to inspire others to follow in the path to the priesthood or religious life, as well as encourage the faithful to continue to support the seminarians as they continue their formation process at different seminaries. "A Seminarian Story" featuring Jacob Gwynn can be found at https://vimeo.com/521110630.
Online fundraiser to support Our Mother's House
Honor your mother, daughter, sister, friend, or someone who has been like a mother to you with a gift that will help homeless mothers and their children. Our Mother's House of Catholic Charities provides a safe environment for residents to achieve self-sufficiency through education, vocational training, and personal growth. This year they are holding their annual Mother's Day fundraiser so everyone can help a needy mother succeed. To support Our Mother's House please visit www.dov.regfox.com/mothers-day-2021.
Cardinal Mooney Girls Track win Districts for first time in 26 years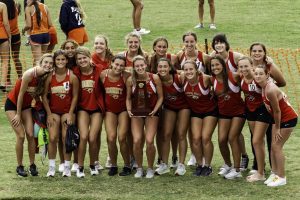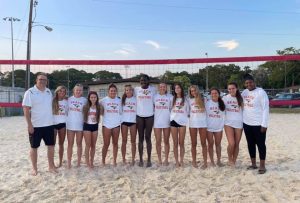 The Cardinal Mooney Catholic High School Girls Track and Field team are District Champs for the first time in 26 years. The Sarasota team won on April 15, taking the top spot in multiple disciplines including shot put, discus, javelin, triple jump, pole vault and 4×400 relay. Just one day earlier, the Mooney Girls Beach Volley team became Regional Champs. The Lady Cougars beat Bishop Verot Catholic High School in Fort Myers and then Bradenton Christian on April 14 for the regional title. With the title comes an automatic berth to the State Championship tournament field of 12 teams on May 1. Congratulations to all!
Science students learn how to help in emergencies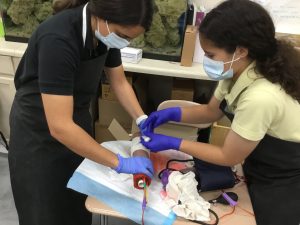 Students in the Principles of Biomedical Science class at Bishop Verot Catholic High School in Fort Myers recently worked together in small groups to learn how to stop an uncontrolled bleed during their Emergencies Unit. They had three minutes to control different types of bleeding by either applying compression or by packing the wound and then compression. They ended the lesson by learning to control a bleed using a tourniquet as well as to clamp and legate an artery.
Pre-K-4 students attend "drive-in" movie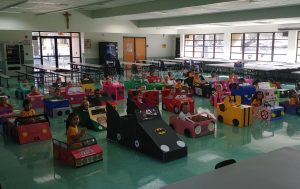 Students at St. Andrew Catholic School in Cape Coral recently attended a drive-in movie. Their fancy cars were creative and amazing as each student created their own cars with designs ranging from sports cars to superhero vehicles.
Youth Mental Health First Aid Workshop
Youth Mental Health First Aid is designed to teach Priests, Deacons, Seminarians, Directors of Religious Education, Youth Ministers, Principals and Teachers how to help an adolescent (age 12-18) who is experiencing a mental health or addictions challenge or is in crisis. Youth Mental Health First Aid is primarily designed for adults who regularly interact with young people. The course introduces common mental health challenges for youth, reviews typical adolescent development, and teaches a 5-step action plan for how to help young people in both crisis and non-crisis situations. The course will be held on April 29, 2021 from 8:30 a.m. to 4:30 p.m. at St. Agnes Parish, 7775 Vanderbilt Beach Road, Naples, and on May 1 from 8 a.m. to 4 p.m. at Our Lady Queen of Martyrs Parish, 833 Magellan Drive, Sarasota. Advanced registration is required, and the cost is $25. Visit www.dioceseofvenice.regfox.com/workshop-on-youth-mental-health-first-aid for registration. The cost includes the book, lunch and certificate of completion.
Porn: Seven Myths Exposed event May 4
The porn industry has taken our culture hostage! The Diocese of Venice Family Life Office is hosting an event at 6:30 p.m., May 4, 2021 at the Epiphany Cathedral Parish Hall, 399 Sarasota St., Venice, to address and educate teens, parents and all others on the tyranny of pornography in our society. Matt Fradd is the speaker who has authored and coauthored several books, and creates and hosts the podcast, "Pints with Aquinas". There is no cost to attend. For further information, please contact Carrie Harkey at harkey@dioceseofvenice.org or 941-484-9543.
Stepping into Marriage with Children
Did you know 60 percent of second marriages fail and the failure rate increases to 70 percent when there are children from a previous marriage in the home. The difficulties of parenting and stepparenting seemingly insurmountable are often the root cause of such failures. A free half day workshop, organized by the Diocese Office of Family Life, entitled "Stepping into Marriage with Children" is designed for those couples beginning or currently in a stepfamily situation, and will take place from 9 a.m. to noon, May 15, 2021 at Our Lady of Light Parish, 19680 Cypress View Drive, Fort Myers. This workshop takes a realistic look at blended families and offers strategies and tools to meet unique challenges. There is no cost to attend but registration is required at https://dioceseofvenice.regfox.com/stepping-into-marriage-with-children. For further information please contact Carrie Harkey at harkey@dioceseofvenice.org or 941-484-9543.
Year of the Family
On March 19, 2021, the fifth anniversary of the Apostolic Exhortation Amoris Laetitia, on the joy and beauty of familial love, Pope Francis inaugurated the year "Amoris Laetitia Family" which will conclude on June 26, 2022 on the occasion of the next World Meeting of Families in Rome. When announced, the Dicastery said in a statement, "The Pandemic experience has highlighted the central role of the family as the domestic Church and has shown the importance of community ties between families". To learn more about the effort and the initiatives occurring in the Diocese of Venice during this commemorative year visit https://dioceseofvenice.org/year-of-the-family/.