Returning to Mass and Parish Life during Covid-19
As Bishop Frank J. Dewane continues to listen to public health data and hear from Priests and Parishioners about their experiences at Diocesan Parishes, the dispensation from the obligation to attend Sunday Mass will be lifted in the Diocese of Venice beginning May 1, 2021. Below is a letter to the Faithful in English and Spanish announcing this change. For the revised guidelines in English updating Parish safety protocols which includes the need to continue to wear masks at Mass, as well as at all Diocesan and Parish activities, please visit https://dioceseofvenice.org/offices/daily-resources/diocese-of-venice-responds-to-novel-coronavirus-covid19/ and in Spanish visit https://dioceseofvenice.org/offices/offices-departments/hispanic-apostolate/.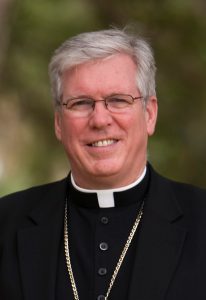 April 9, 2021
Dear Brothers and Sisters in Christ,
They devoted themselves to the teaching of the Apostles and to the communal life, to the breaking of the bread and to the prayers (Acts 2:42).
This Scripture passage reminds us that the Easter Season is an apt time to renew our fidelity to those essential actions that define us as the Body of Christ. Preeminent among these activities is gathering with the Church to celebrate the Most Holy Eucharist on Sundays and Holy Days.
In March of last year, because of the many unknowns that came with the Covid-19 Pandemic, and to protect the most vulnerable among us, after consultation I decided to take the unprecedented step of suspending public Masses and granting a general dispensation to the Catholic Faithful of the Diocese of Venice from the obligation to attend Mass on Sundays and Holy Days of Obligation. Together with our fellow citizens, I urged Catholics to exercise caution to protect the health of all. I thank everyone for their patience and understanding during this difficult time.
As the Faithful returned to in-person worship when restrictions were loosened, the Diocese's Clergy and Faithful performed exceptional service in maintaining safety protocols. In recent weeks as vaccines have become available, the news in Florida is encouraging, even more members of the Faithful have returned to our Parishes for Sunday Mass. Our Holy Week and Easter Liturgies were particularly edifying examples of commitment to Christ and the Eucharist. Furthermore, life in Southwest Florida has returned to some level of normalcy; restaurants, stores, and entertainment venues are open, and people of all ages seem willing to return to ordinary activities.
It is apparent that circumstances now allow almost all Catholics to attend Mass safely. Therefore, beginning May 1, 2021, the general dispensation from the obligation to attend Mass on Sundays and Holy Days of Obligation will be lifted in the Diocese of Venice.
At the same time, the Faithful should note this obligation does not apply to those who are ill, or others as outlined in the revised guidelines accompanying this letter. The revised guidelines adjust safety protocols to acknowledge that most Catholics can return to in-person worship at their Parish churches.
During this year dedicated to St. Joseph, the Faithful are encouraged to turn to his intercession for protection and courage. Let us be mindful in prayer of those who are no longer with us and those who continue in their recovery. May God bless you and your family.
Sincerely yours in Christ,
+ Frank J. Dewane
Bishop of the Diocese of
 Venice in Florida
9 de abril de 2021
Queridos Hermanos y Hermanas en Cristo,
Se dedicaron a la enseñanza de los Apóstoles y a la vida comunitaria, a partir del pan y a las oraciones (Hch. 2:42).
Este pasaje de las Escrituras nos recuerda que el Tiempo de Pascua es un momento propicio para renovar nuestra fidelidad a aquellas acciones esenciales que nos definen como el Cuerpo de Cristo. Entre estas actividades destaca la asistencia a la Iglesia para celebrar la Santísima Eucaristía los Domingos y Días de Obligación.
En marzo del año pasado, debido a las muchas incógnitas que vinieron con la Pandemia de Covid-19, y para proteger a los más vulnerables entre nosotros, después de una consulta, decidí dar el paso sin precedentes de suspender las Misas públicas y otorgar una dispensa general a los Fieles Católicos de la Diócesis de Venice de la obligación de asistir a Misa los Domingos y Días Santos de Obligación. Junto con nuestros conciudadanos, insté a los Católicos a actuar con cautela para proteger la salud de todos. Agradezco a todos por su paciencia y comprensión durante este momento difícil.
Cuando los Fieles regresaron a las Celebraciones en persona después de no tener restricciones, el Clero y los Fieles de la Diócesis realizaron un servicio excepcional, mantenimiento los protocolos de seguridad. En las últimas semanas, a medida que las vacunas están disponibles, las noticias en Florida son alentadoras e incluso más Fieles han regresado a nuestras Parroquias para la Misa Dominical. Nuestra Semana Santa y las Liturgias de Pascua fueron ejemplos particularmente edificantes de compromiso con Cristo y la Eucaristía. Además, la vida en el Suroeste de Florida ha vuelto a cierto nivel de normalidad; los restaurantes, las tiendas y los lugares de entretenimiento están abiertos y las personas de todas las edades parecen estar dispuestas a volver a sus actividades normales.
Es evidente que las circunstancias ahora permiten que casi todos los Católicos asistan a Misa de manera segura. Por lo tanto, a partir del 1 de mayo de 2021, se levantará en la Diócesis de Venice la dispensa general de la obligación de asistir a Misa los Domingos y los Días de Obligación.
Al mismo tiempo, los Fieles deben tener en cuenta que esta obligación no se aplica a aquellos que están enfermos u otros, como se describe en las pautas revisadas que acompañan a esta carta. Las pautas revisadas se ajustan a los protocolos de seguridad para reconocer que la mayoría de los católicos pueden regresar a las celebraciones en persona en sus Iglesias Parroquiales.
Durante este año dedicado a San José, se anima a los Fieles a acudir a su intercesión en busca de protección y coraje. Pidamos en la oración por los que ya no están con nosotros y por los que continúan en su recuperación. Que Dios le bendiga a usted y a su familia.
Sinceramente tuyo en Cristo,
+ Frank J. Dewane
Obispo de la Diócesis de
Venice en Florida