The first day for Catholic Schools in the Diocese of Venice was Aug. 8, 2022, and encompassed the usual mix of excitement, tears (children and parents) and reunions among friends.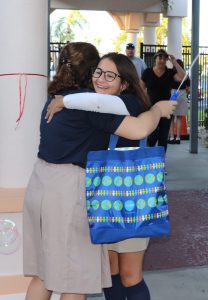 "Love you!" "Miss you already!" "One more hug!" "Have a great day!" "Have fun!"
These were some of the words from parents and students as the first day carline was full of stops and starts at Epiphany Cathedral Catholic School in Venice. While the parents tried to figure out the proper carline procedures the students emerged from their respective family vehicles with their ubiquitous backpacks, a bounce in their step and enthusiasm to get to class. Of course, there were a few stragglers who weren't quite certain where to go, but teachers and middle school helpers led the way.
A morning assembly in the courtyard in front of the school Chapel, put the students in the right frame of mind for the day and the Academic Year as everyone joined in morning prayers, the Pledge of Allegiance, as well as a few birthday announcements.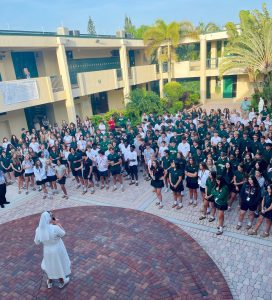 Msgr. Patrick Dubois, Rector of Epiphany Cathedral, and Father Alex Pince, Parochial Vicar, blessed the children with holy water. Also present was Jesuit Father John Belmonte, Diocesan Superintendent of Catholic Education.
"Who is excited for this school year?" Father Belmonte queried, and immediately hands shot up and a cheer of "Yes!" came from the 250 students. "Who is ready to learn; to grow in your faith and to be at the best school anywhere?" Again, the hands shot up and cheers echoed throughout the courtyard.
"We are all here to make sure this year is the best year ever," Father continued. "I wish all of you a very successful and exciting school year."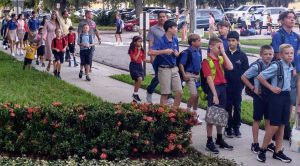 Then the eager students were off to the classroom to learn and grow spiritually and academically. For the youngest students, pre-kindergarten and kindergarten, some parents escorted their child into the classroom. Following a few last "First Day of School" photos, the parents departed, and everyone quickly settled into their seats comforted in the knowledge that they now had 20 or more new friends.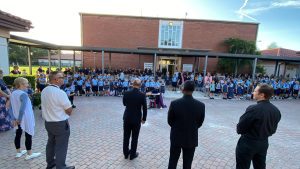 These scenes were repeated at each Diocesan Catholic school. The high schools had less tears and more fun as those students settled into their year. At each Diocesan Catholic high school – Bishop Verot in Fort Myers Cardinal Mooney in Sarasota and St. John Neumann in Naples – there were special "Senior Sunrise" welcomes for the graduating class of 2023.
The Diocesan Catholic schools work conscientiously to provide Christ-centered learning experiences that are transportable to the real world and provide the opportunity for children to develop life-long learning skills and to be successful beyond the classroom.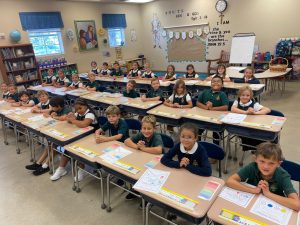 Father Belmonte said the 2022-2023 Academic Year began with enrollment of 5,837, a more than 14% increase over the previous year. In fact, Father Belmonte said each Diocesan school has a wait list in at least one grade level, and many are seeing enrollment reaching levels not seen in more than a decade. With those enrollment numbers, many new faces, and many new families are now part of the greater Diocesan Catholic school family.
"There has been a focused effort to let the community in on the secret that Diocese of Venice Catholic Schools provide a top-notch education at all grade levels," Father Belmonte said. "There are exciting things happening in our schools and families are taking notice."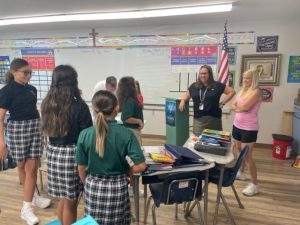 That excitement includes the inclusion of the STREAM (Science, Technology, Religion, Engineering, Arts and Math) model into all classrooms while incorporating the Diocesan curriculum called, "The Gifts of Christ: Truth, Beauty, Goodness, Affability, Fortitude, Humility, and Prudence." This is all part of an incorporated Diocesan robotics program which broadens the opportunities for each student.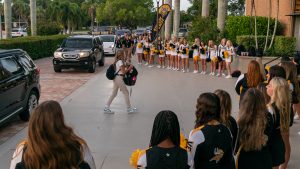 This approach, fully supported through the generosity of Bishop Frank J. Dewane, places students ahead of the curve in primary fields while continuing to promote core Catholic virtues by helping students to develop cognitive thought processes and gain skills such as leadership, communication, complex problem solving, teamwork and creativity.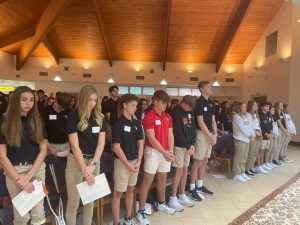 As the 2022-2023 Academic Year progresses each Catholic school student will look back fondly at the first day and remember that "this is the best year ever."
For more information about Diocesan Catholic schools, please visit www.dioceseofvenice.org/education.