Father Bob Kantor, Pastor of St. Agnes Parish in Naples and Fourth Degree Knight of Columbus, was installed as the Florida Knights of Columbus State Chaplain on July 3, 2021 in Winter Garden.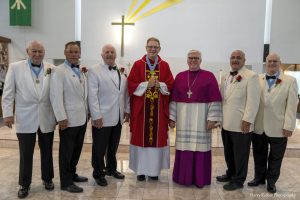 The installation ceremony was led by Bishop Frank J. Dewane and took place following Mass.
After reading the responsibilities of the office, Bishop Dewane placed the State Chaplain Medal on Father Kantor. Bishop Dewane and Father Kantor then congratulated the other officers as the State Deputy presented their medals.
"It was nice of Bishop Dewane to come all the way up there to do the ceremony," Father said. "The Knights and I were very grateful."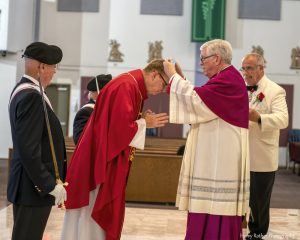 Father Kantor will continue to serve as Diocesan Chaplain for the Knights and the new State Chaplain appointment is for a two-year term.
In addition to his responsibilities at St. Agnes, Father Kantor is also Dean of the Southern Deanery and the Diocesan of Venice Director for the Propagation of the Faith (Mission Office).