Summertime and the Giving is Easy Appeal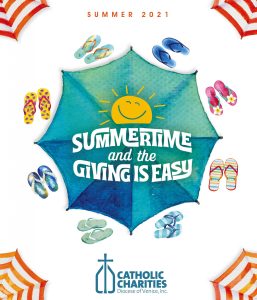 Every day, Catholic Charities Diocese of Venice serves the most vulnerable population by feeding, housing, empowering, and striving to help those in need. This summer, you can leave your footprint by helping your neighbors. The Catholic Charities Summertime and the Giving is Easy Appeal is asking for your support. You can donate to the type of assistance you believe is the most important, such as food, shelter, education or other support. The giving is easy! Your gift will make a positive impact on our less fortunate brothers and sisters! Please visit www.catholiccharitiesdov.org or mail a check to Catholic Charities,1000 Pinebrook Road, Venice, FL 34285.
Bishop celebrating two anniversaries in July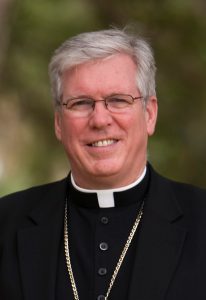 There are two dates in July which hold a special place in the life of Bishop Frank J. Dewane, July 16 and July 25. The Feast Day of Our Lady of Mount Carmel, July 16, is the day in which he received the Sacrament of Holy Orders 33 years ago in 1988 for the Diocese of Green Bay. In addition, it was 15 years ago, on July 25, 2006, when he was Ordained to the Episcopate, becoming a Bishop and the Spiritual Leader of the Diocese of Venice in Florida. Please prayer for Bishop Dewane. If you would like to send the Bishop a congratulatory message, please send a message to communications@dioceseofvenice.org or post a message on the Diocesan Facebook page at www.facebook.com/dioceseofvenice.
World Day for Grandparents and the Elderly
Pope Francis recently instituted the Church-wide celebration of World Day for Grandparents and the Elderly. Beginning this year, this special day will be held on the fourth Sunday of July (July 25), close to the liturgical Memorial of Ss. Joachim and Anne, the Grandparents of Jesus. The theme chosen by the Holy Father for this World Day is "I am with you always" (cf. Mt 28:20) which is a way of expressing the closeness of the Lord and the Church to every older person. "I am with you always" is also a promise of closeness and hope that young and old can mutually share. Not only are grandchildren and young people called upon to be present in the lives of older people, but older people and grandparents also have the mission of evangelization, proclamation and prayer, and of encouraging young people in their Faith. To learn more, please visit www.amorislaetitia.va.
National NFP Awareness Week
The Diocese of Venice Office of Family Life will be hosting a free virtual session of the Creighton Model Fertility Care System during the National Natural Family Planning Week being held from July 25-31, 2021. This provides an opportunity to spread the word about Catholic teaching on marriage and conjugal love. The Diocese of Venice virtual sessions are being held Monday, July 26 and Tuesday, July 27, beginning at 7:00 p.m. For more information contact Diocesan Family Life Coordinator Carrie Harkey at harkey@dioceseofvenice.org, or to register visit:
https://dioceseofvenice.regfox.com/fertility-awareness-introduction-session
2021 Marriage Preparation Retreats
The Diocesan Office of Family Life is offering "Day of Reflection" retreats for couples preparing for the Sacrament of Marriage. A specially prepared volunteer team of married couples and a priest will share their experiences and information with the intention of enabling couples to be more aware of the privileges and responsibilities of marriage. The retreats in English are from 9:30 a.m. to 5 p.m., on the following Saturdays: Aug. 7, and Nov. 13. Please visit https://dioceseofvenice.regfox.com/marriage-preparation-retreat-2021 to register for the English retreats. Retreats in Spanish take place: 9:30 a.m. to 5 p.m., Aug. 7 and Oct. 30 at St. Jude Parish, 3930 17th Street, Sarasota, and 8:30 a.m. to 4 p.m., Aug. 14 and Dec. 4, at Our Lady Queen of Heaven Parish, 355 S. Bridge Street, LaBelle. To register for a St. Jude retreat date please contact the parish at 941-955-3934. Please visit https://dioceseofvenice.regfox.com/retiro-de-formacion-matrimonial. to register for a retreat at Our Lady Queen of Heaven, For further information contact Carrie Harkey at 941-484-9543 ext. 3019.
St. Joseph course available online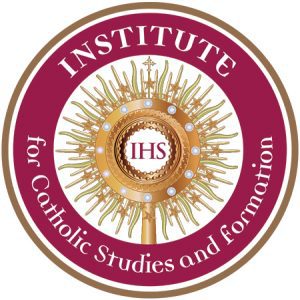 The Institute for Catholic Studies and Formation invites you to celebrate the Year of St. Joseph with a self-paced online course "Encountering St. Joseph with St. John Paul II and Pope Francis." The class covers John Paul II's Apostolic Exhortation on the Person and Mission of St Joseph (Redemptoris Custos) and Pope Francis' Apostolic Letter on St Joseph (Patris Corde). This course can be taken individually or in a group. Start the course anytime and proceed at your own pace as it includes short, pre-recorded videos, questions for personal reflection or group discussion, recommended resources and more. Course fee: $35. For information and registration visit https://institute-dov.org/ or call 941-766-7334.
OLPH Retreat Center Fall Schedule published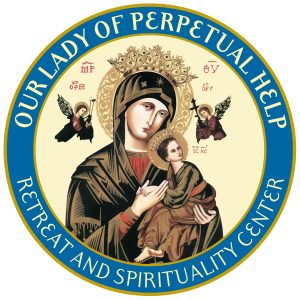 Our Lady of Perpetual Help (OLPH) Retreat and Spirituality Center in Venice has published their Fall 2021 Group Retreat Schedule. The schedule includes a Men's Retreat in October, Ignatian Preached Retreat in November, and Advent Retreat in December. In addition, the schedule for the Monthly Day of Prayer, held on the second Sunday and Wednesday of each month starting in September, has also been published. Please see the Schedule of Events page on our website for more information and to register at www.olph-retreat.org. If you have any questions, please call 941-486-0233.
New Catholic Institute course beginning soon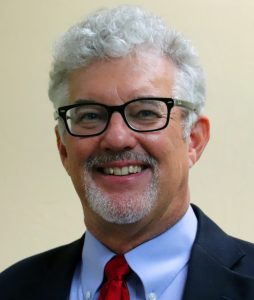 The Institute for Catholic Studies and Formation is offering a 16-week graduate level online course starting August 24 that introduces students to the principles, practices, and sources of Catholic Theology. The course "What is Catholic Theology? (Ecclesial Nature and Mission of Theology)" counts as a pre-requisite for those beginning the online MA in Theology and Christian Ministry at Franciscan University of Steubenville. (Franciscan offers Diocese of Venice students discounted tuition for this online MA). This course is also available to those who wish to attend for their own personal enrichment. For cost and other information and to register for the course, visit the Institute website at https://institute-dov.org/ or call 941-766-7334.
College scholarships Available
Each year Catholic Life Insurance offers two scholarships worth $2,000 each through the Rev. Msgr. Larry J. Droll Scholarship Fund and is now accepting applications. The scholarship assists Catholic laymen and women pursuing graduate degrees that will help them qualify for professional positions in Parish and Diocesan Ministry. Scholarships will be awarded to practicing Roman Catholics who have already attained a bachelor's degree and are now enrolled in Catholic graduate schools of Theology or Religious studies. The student must be a resident of one of the states in which we operate, and the school must also be located in one of those states. Currently, Catholic Life Insurance operates in Texas, Arizona, Florida, Louisiana, Mississippi, New Mexico, and Oklahoma. The deadline to apply is September 13. For an application or more information please visit https://www.cliu.com/giving-back/faith-based-scholarships/msgr-droll-scholarship-for-catholic-laity/.
Appointments
After broad consultation with the Priest Personnel Board, Bishop Frank J. Dewane announced the following appointments:
Father Shawn Monahan, OMV, relieved of his duties as Parochial Vicar of Epiphany Cathedral Parish, Venice, effective June 1, 2021, and thus has returned to his Religious Community.
Father Thomas Carzon, OMV, as Parochial Vicar of Epiphany Cathedral Parish, Venice, effective August 1, 2021.
Father Robinson Sierra, as Parochial Vicar of St. Peter the Apostle Parish, Naples, effective June 4, 2021.
Father Duong Nguyen, relieved of his duties as Parochial Vicar of San Marco Parish, Marco Island, effective July 1, 2021. Father Nguyen took an assignment in the Diocese of San Jose, California to be close to his aging parents.
Father Carlos Reyes Ramirez, C.S., relieved of his duties as Pastor of Our Lady of Guadalupe, Immokalee, effective July 5, 2021, and thus will return to his Religious Community.
Father Teofilo Ramirez Moreno, C.S., as Administrator of Our Lady of Guadalupe Parish, Immokalee, effective July 5, 2021.