With the flick of a shovel, Bishop Frank J. Dewane and members of the Fort Myers City Council celebrated the start of construction of the St. Peter Claver Place Apartments.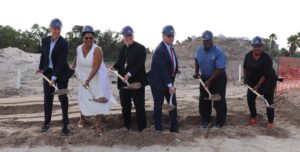 This first phase of the project, being constructed in partnership with National Development of America, Inc. (NDA), includes 136 affordable two- and three-bedroom units with the total buildout reaching 214 units. The ceremonial groundbreaking ceremony took place April 11, 2023, and is the result of seven years of meetings, negotiations and financing, ultimately serving as a clear example of the best in public-private partnerships.
"This is a great, great project. I want to thank all the different partners, most importantly the Diocese of Venice," said Fort Myers Mayor Kevin Anderson during the groundbreaking ceremony. "Totally, 214 units may not seem like a lot when you look at the demand, but it is. It's huge! It's a big chunk that's been added to the inventory. Not only that, we have taken a vacant piece of land and we are collectively going to turn that into something really nice that gives people a place to live, hopefully a place they can call home."
Bishop Dewane said St. Peter Claver Place is being constructed for the working people of Fort Myers.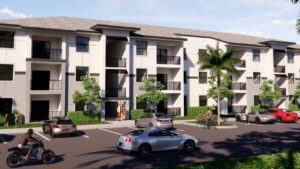 "We see throughout Fort Myers people are in need of housing, particularly rental housing. The market is tough. It is difficult for families to find good accommodations, a place to raise their children and know that they are safe and secure. We want to contribute to that by what we undertake here, by what we do with NDA and with the city. We do it for the residents who live here and that is important to all of us. They are the reason why we are here. We are not here because someone is Catholic. We are Catholic and that's our call; to reach out to others and to help them," Bishop Dewane said.
Rick Miller, President of NDA, said that the St. Peter Claver Place Apartments is an example of perseverance, as the concept of the project began more than seven years earlier because of the increased demand for affordable rental housing in the Fort Myers area. The first meetings with the city were in 2016 and started the process of rezoning and permitting. The biggest challenge was getting financing for affordable housing.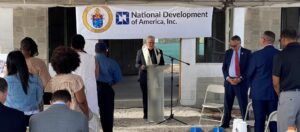 "We (at NDA) are different than the other guys. Our goal is to provide quality housing at rental rates that working people can actually afford. Today, if something new gets built, the rental rates are well beyond the reach of the working people of this area. St. Peter Claver Place is different; the financing structure allows us to charge rates between $600 and $1,300 per month, a fraction of what people are paying now," Miller said.
The timing of the groundbreaking comes on the heels of a Florida Atlantic University study released on April 6 which found that for February, the Cape Coral-Fort Myers metropolitan area had the largest year-over-year rent increase in the U.S. at 13.59%. The average Cape Coral-Fort Myers rent for February was $2,283.51.
St. Peter Claver Place residents must qualify depending on their financial status, making between 30% and 60% of the city's average median income. For 2022, that was $83,200, with qualifying salaries based on last year's numbers being annual incomes between $25,000 and $50,000.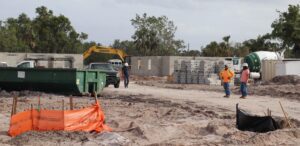 Fort Myers City Councilwoman Teresa Watkins Brown said housing is the No. 1 issue the Council deals with each day. "There are people who cannot find a place to live. Either it is too much, or not decent. I'm elated that this project is here."
The final deal for the project was approved days before Hurricane Ian struck the area on Sept. 28, 2022, which Miller explained made a difficult process even more difficult.
"We are well underway and will be on schedule for completion by the end of 2023. Our budget was largely out of control because of difficulty of getting materials and supplies, but we got the support needed to get this project going," Miller said.
Michele Hylton-Terry, Executive Director of Fort Myers Community Redevelopment Agency, described St. Peter Claver Place as a remarkable affordable housing project, that was supported through the use of tax increment rebate financing.
"Our agency has played a crucial role in bringing this development to life, demonstrating the power of public-private partnerships and addressing affordable housing and the needs of our community. This project not only provides safe, high-quality homes for hardworking families but also contributes to the revitalization of our city, boosting our local economy and creating a more inclusive and vibrant community. Let (St. Peter Claver Place) not only symbolize the opening of new doors to these families who will call this place their home, but let it also be the beginning of a new chapter for our city, one marked with growth, resiliency and unity."
A number of additional dignitaries were present for the groundbreaking ceremony, including City Councilman Johnny Streets, who echoed the praise for the project. There were other city staff as well as community supporters who were instrumental behind-the-scenes in helping to achieve the success of what is becoming St. Peter Claver Place. Also present were representatives from Catholic Charities, Diocese of Venice, Inc., as well as priests and religious who serve at nearby Jesus the Worker Parish and St. Francis Xavier Parish.
The project is located on Michigan Avenue, within the Dr. Martin Luther King Boulevard Redevelopment Area of Fort Myers, and is adjacent to AFCAAM of Catholic Charities, Diocese of Venice, Inc., an after-school youth mentoring program. The name, St. Peter Claver Place, is derived from the former Catholic Mission which was located on the property until the early 2000s.
St. Peter Claver (1580-1654) was a Jesuit missionary known as patron saint of slaves, African missions and interracial justice. St. Claver spent his life serving enslaved Africans who were brought to Columbia during the 17th century.
The Diocese of Venice has a long partnership with National Development of America, having worked together to create two projects in Arcadia: St. John Paul II Villas, an affordable housing project for seniors completed in 2019, as well as Casa San Juan Bosco, a single-family housing project for farmworkers completed in 2016.
Phase 1 of St. Peter Claver Place is expected to be completed by the end of 2023 with occupancy shortly afterward. The second phase of 78 units is pending financing.