A group of 34 catechists, evangelists and religious educators from the Diocese of Venice took part in the St. John Bosco Conference for Evangelization and Catechesis, July 17-20, 2023, in Steubenville, Ohio.
The goal of the conference was to allow participants to experience many engaging speakers, moving worship, and outstanding fellowship that will rejuvenate them for life and mission. The conference theme was "From the Father's Heart."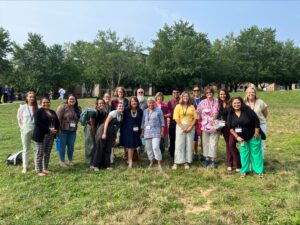 The Diocesan group was led by Carrie Harkey, Director of the Office of Marriage & Family, and Marthamaria Morales, Diocesan Director of Youth & Young Adult Ministry.
"It was a beautiful opportunity to have a joyous time among so many people who are passionate about building up the Church," Morales said.
This was the first Bosco Conference for Stephanie Lovetere, the Youth Coordinator at Epiphany Cathedral in Venice, who said she experienced a great atmosphere to share about her own experiences in youth outreach with so many others.
"It is so wonderful to be able to be encouraged by my fellow brothers and sisters in Christ. I have learned about discipleship and the way to better minister to teens that I work with every day, always being humble enough to surrender to the Lord's Will for this ministry," Lovetere said.
Another first-time participant was Luz Karyme, a Hispanic assistant from St. Agnes Parish Naples. "I have experienced the calling of God to serve him better. I learned that the love of God increases in me when I love more. It was a great opportunity to strengthen our faith and grow our fraternity with different groups."
Mayra Donan, a catechist from Our Lady of Grace Parish in Avon Park, said she was also extremely grateful to have the opportunity to participate. "My experience has been of great joy and growth. I learned the beauty of God's love as a Father and how deeply He loves young people. I learned so much from the workshops, and it was an opportunity to renew my commitment to the call God has given me to walk with the youth."
The conference included a variety of different subject tracks with the Diocesan participants taking full advantage of the educational opportunities.