Appointments
A very warm welcome is extended to Father Alejandro Roldán and Father Daniel Scanlan, the newest members to the Presbyterate of the Diocese of Venice in Florida.
Bishop Frank J. Dewane announces the following assignments:
Father Lawton Lang, appointed as Administrator of San Antonio Parish, Port Charlotte, effective July 31, 2023, and thus, is relieved of his duties as Parochial Vicar of St. Thomas More Parish, Sarasota.
Father Alejandro Roldán, as Parochial Vicar of St. Agnes Parish, Naples and St. Elizabeth Parish, Naples, effective July 17, 2023.
Father Daniel Scanlan, initially to assist at Epiphany Cathedral, Venice, and effective August 9, 2023, as Parochial Vicar of St. Thomas More Parish in Sarasota.
Knights on Bikes ride for life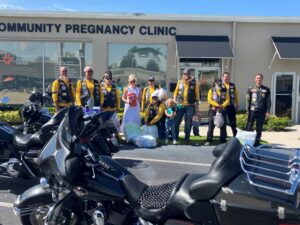 The Knights on Bikes group took part in a charity ride for life on July 22, 2023. The motorcyclists met at St. Peter the Apostle Parish in Naples and prayed the rosary before proceeding to the Community Pregnancy Clinic in downtown Naples. There the Knights dropped off pampers, baby wipes, and many other supplies. They also raised and donated money to the Clinic to help support the pregnancy resource center which has four clinics throughout the Diocese, providing life-affirming solutions to real-world problems, saving thousands of lives as a result.
Sarasota parishioner earns Gold at Special Olympics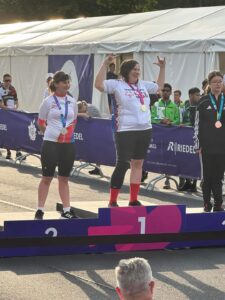 Congratulations to Mollie O'Connell, of St. Martha Parish in Sarasota, for earning a Gold Medal in the 2k Cycling Time Trial race at the Special Olympics held in Berlin, Germany, on June 21, 2023, with a winning time of 5:56.78. The Special Olympics were held from June 17-25, with more than 7,000 athletes competing in 26 sports. Well done, Mollie!
Bradenton student plays lacrosse for a cause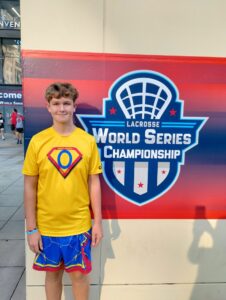 St. Joseph Catholic School student, Cooper Kolbe, plays on a competitive lacrosse team called Owen's Heroes, which was named for a 5-year-old who has type 1 diabetes. The team plays and raises money for research and to help families of children struggling with juvenile diabetes. Cooper is the team goalie and this summer, Owen's Heroes made it all the way to the Youth Lacrosse World Series competing against 25 teams from around the world. After the tournament, Owen's Heroes was ranked #11 in the world. What a great experience, and what a great cause these young athletes have embraced!
Scam Alert
There have been recent incidents where parishioners have been contacted supposedly by their pastor and/or parish staff to send gift cards, cash or money orders via email or text. These requests are a scam and under no circumstances should you reply to these emails or comply with these requests. Nor should you divulge any personal information to anyone that is not a trusted source. If you are contacted with a request for money via email or text, and the message appears as though it is from a Diocesan priest or employee, do not reply. Instead, make direct contact with the person by calling the Parish and asking to speak with the priest or employee.
Decline to Sign Petition for Dangerous Pro-Abortion Ballot Initiative
An extremely grave initiative is underway in Florida that seeks to erase pro-life protections by banning government regulation of abortion in our state constitution. Abortion activists are working to gather petition signatures to have a pro-abortion constitutional amendment placed on the statewide ballot in the November 2024 election. Floridian Catholics should not sign the petition. The amendment would hinder the Florida legislature's ability to protect women and children from abortion. Please also continue your prayers for the protection of the unborn and spread the word to your spheres of influence.
Communal First Saturdays
Beginning Saturday, Aug. 5, 2023, and every first Saturday thereafter is an opportunity to answer our Lady's call with Communal First Saturdays at Incarnation Parish, 2929 Bee Ridge Road, Sarasota. In this call, she said, "Many souls will be saved and there will be peace," if we satisfy her special request for Communal First Saturdays. Fulfill the First Saturday Devotion through these four practices: Holy Rosary at 7:30 a.m.; Holy Mass with Communion of Reparation at 8:30 a.m.; Confession after Mass; and an additional scriptural meditation on the mysteries of the rosary in Our Lady's company at 9:20 a.m., with the intention of making reparation to the Immaculate Heart of Mary. If you are interested, Communal First Saturdays are open to all. For more information, please contact Joe Moniz at devoted2mary@gmail.com, or 941-444-0560.
Execution Prayer Vigils Aug. 3
James Barnes is scheduled to be executed in Florida at 6 p.m. on Aug. 3, 2023. Barnes was sentenced to death for the 1988 murder of a young woman named Patricia Miller in Melbourne, and he has been on Florida's death row since 2006. Prayer vigils will be held at 5:30 p.m., Aug. 3, at San Pedro Parish, 14380 Tamiami Trail, North Port, and at 5:30 p.m., Aug. 3, at the outdoor Last Supper table at Sacred Heart Parish, 211 W. Charlotte Ave., Punta Gorda. All are invited to attend! If you are not able to attend, please pray for Barnes and his family as well as Miller and her family, and all tasked with his execution.
Vocational Retreat in Arcadia in August
St. Paul Catholic Church is hosting a one-day "Encounter with Christ" Vocational Retreat, from 8 a.m. to 7 p.m., Aug. 26, 2023, for males and females ages 15 to 30. The retreat will take place in the Parish Hall located at 1208 East Oak St., Arcadia. The cost for the day is $20 and includes meals and materials. Pre-registration is available by emailing retreatreg20@gmail.com. For further information contact the Parish office at 863-494-2611.
Surviving Divorce program
If you or someone you know is navigating the challenges of a separation or divorce, consider participating in the Surviving Divorce Program developed by Rose Sweet, a well-known Catholic author, and speaker. The 12-week program begins at 6:30 p.m., Aug. 17, 2023, at St. John the Evangelist Parish, 625 111th Ave., Naples. To register, contact Michael Dana at mgdana@gmail.com or 301-332-9055.