Knight's Silver Rose visits Sebring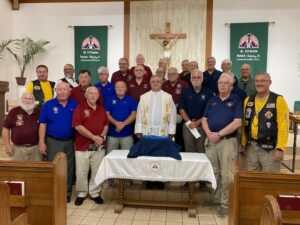 A special prayer service was held Aug. 8, 2023, at St. Catherine Parish in Sebring, when members of the Knights of Columbus brought the travelling Silver Rose to the Parish. Each year, from early March through mid-December, Silver Roses are stewarded by Knights of Columbus councils along routes from Canada to Mexico. Every stop the Silver Rose makes throughout the pilgrimage is a rosary-centered occasion for Knights, parishioners and community members to pray for respect for life, for the spiritual renewal of each nation, and for the advancement of the message of Our Lady of Guadalupe. The Knights of Columbus expansive pro-life initiative includes supporting the National March for Life in Washington, D.C., and placing more than 1,000 ultrasounds in pregnancy resource centers throughout the world, including many within the Diocese of Venice.
Youth pray for priests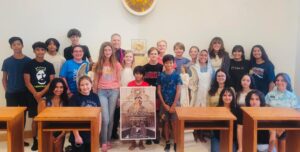 On the Feast of St. John Vianney, Aug. 4, 2023, youth from St. Katharine Drexel Parish in Cape Coral offered a Holy hour & Divine Mercy Chaplet for all priests in honor of the feast day of St. John Vianney. The French saint (1786-1759) was known for his faithfulness, his devotion to the Virgin Mary, and to St. Philomena, and for dedication to the Sacrament of Reconciliation (confession) for his parishioners. St. John Vianney was canonized by Pope Pius XI in 1925. He is the patron saint of clergy throughout the world.
Student commits to West Point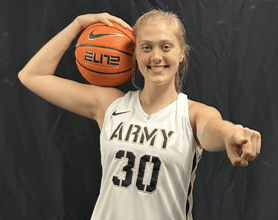 Sophia McCartney, a senior at St. John Neumann Catholic High School in Naples, has announced her commitment to accept an appointment to the U.S. Military Academy at West Point in 2024. McCartney is a star basketball player at Neumann and intends to play at West Point.
Rosary makers hold luncheon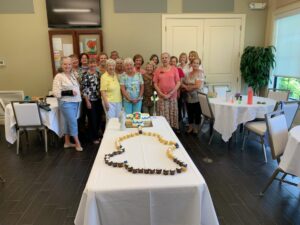 The rosary makers of Ave Maria Parish in Ave Maria held a luncheon on Aug. 5, 2023, to honor Our Blessed Mother. Our Lady's Rosary Makers is a nationwide apostolate founded by Xaverian Brother Dylan in 1949. Rosary makers of Ave Maria meet Wednesdays 1-3 p.m. in the Oasis Club Craft Room – Del Webb. All are welcome; however, reservations are required. For more information, please contact Virginia Patterson at 916-616-8007, or Virginiapatterson37@gmail.com.
Bradenton students represent school in golf tournament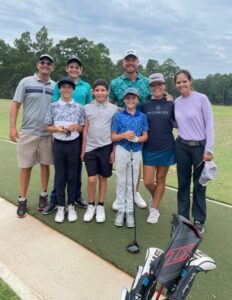 Congratulations to St. Joseph Catholic School students Niko and Tobias on attending the U.S. Kids Golf World Championship. Niko placed 72 among 170 in his division, and Tobias placed 33 among the 200 in his division. The Championship is played every August in Pinehurst, N.C., and gathers 1500 plus golfers in the age range of 5-12 years old from many different countries around the world. Niko and Tobias are pictured with family and friends at the event.
Youth celebration in Fort Myers Aug. 27
St. John XXIII Parish Youth Council in Fort Myers is hosting a Youth Celebration Family Event from 5 p.m. to 6:45 p.m., Sunday, Aug. 27, 2023, in the Parish Hall, 13060 Palomino Lane, Fort Myers. The evening is titled: "Celebrating the Catholic Family," and will include a live performance by The Camp Veritas Band, dynamic speakers, adoration, a 50/50 raffle, and concessions. The event is free and is for youth (middle and high school age) and parents. For more information, please contact Kelly Evers at 239-561-3022 or kelly@johnxxiii.net.
Retreats Returning to OLPH
Registration is now open for several retreats at Our Lady of Perpetual Help Retreat Center, 3989 South Moon Drive, Venice. The Monthly Days of Prayer start September 13. Also, several dates are available for our Desert Day retreats, a one day overnight private retreat. In addition, starting this fall, OLPH is offering single-day Youth Retreats for grades 6-12. The following Fall group retreats are also available for registration: Matt Talbot Men's Retreat scheduled for October 15-17, and the Can You See Me? retreat scheduled for October 27-29. If you are interested in the 3-night, 5-night, or 7-night private, directed retreat schedule, fall dates are now available. To learn more or to register for a group or private retreat, please visit https://www.olph-retreat.org/, or call 941-486-0233.
Vocational Retreat in Arcadia Aug. 26
St. Paul Parish in Arcadia is hosting a one-day Vocational Retreat, "Encounter with Christ" from 8 a.m. to 7 p.m., Aug. 26, 2023, for males and females ages 15 to 30. The cost for the day is $20 and includes meals and materials. Pre-registration is available by emailing retreatreg20@gmail.com. For further information contact the Parish office at 863-494-2611.
Scam Alert
Parishioners of several Parishes in the Diocese of Venice have been contacted by imposters pretending to be their pastor and/or Parish staff, and asking them to send gift cards, cash or money orders via email or text. These requests are a scam and under no circumstances should you reply to these emails or comply with these requests. Nor should you divulge any personal information to anyone that is not a trusted source. If you are contacted with a request for money via email or text, and the message appears as though it is from a Diocesan priest or employee, do not reply. Instead, make direct contact with the person by calling the Parish and asking to speak with the priest or employee.