The Diocese of Venice recognizes the importance of forming married couples to live out their vocation in holiness and joy! As St. John Paul II famously said, "As goes the family, so goes the nation, and so goes the entire world in which we live." It is of crucial importance that families in the Church are empowered to understand and live out their vocation.
To promote greater formation for couples, the Diocese of Venice Office of Family Life and the St. John Paul II Foundation (Houston, Texas) are working together to bring the first "Together in Holiness" Marriage Enrichment Conference to the Diocese on Oct. 2, 2021.
The Conference will be from 10 a.m. to 5 p.m. and will be hosted at two locations: St. Agnes Parish, 7775 Vanderbilt Beach Road, Naples and St. Thomas More Parish, 2506 Gulf Gate Drive, Sarasota. This one-day Conference includes dynamic in-person presentations, Vigil Mass, Eucharistic Adoration, Reconciliation, and on-site childcare.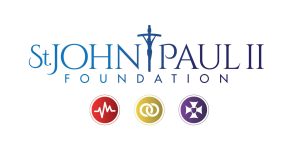 This year's theme is "Family, A School of Virtue" and the main speakers are Kevin and Lisa Cotter, who will speak at both locations. Further, the Conference coincides with this Year of Amoris Laetitia Family, an initiative of Pope Francis that offers the Church an opportunity to celebrate and reflect on the central role the family plays in transmitting the Gospel and shaping society.
The following are just a few of the positive comments from past attendees across the country:
"[The] "Together in Holiness" Conference was wonderful. We don't often have a lot of opportunities to sit together in a quiet room, so we really appreciated having a whole day set aside to be together. It's important to invest time in a marriage so you can stay on the same page with your spouse. These conferences are an investment that can continue to yield fruit for years to come!"
"We loved the good, practical information that we feel like we can apply right away."
"It is very inspiring to hear how simply we can incorporate our faith into the everyday lives of our children. We are more motivated to spend our time wisely with them and to be intentional."
To register for the Sarasota location visit: https://forlifeandfamily.org/events/th21-vnfl-ss/ and to register for the Naples location visit: https://forlifeandfamily.org/events/th21-vnfl-np/. If you have any other question, please contact Diocese Family Life Coordinator Carrie Harkey at 941-484-9543 or harkey@dioceseofvenice.org.