Summertime and the Giving is Easy Appeal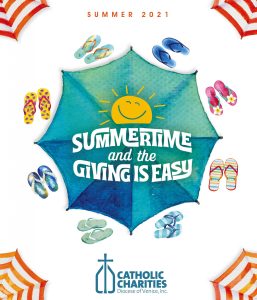 Every day, Catholic Charities Diocese of Venice serves the most vulnerable population by feeding, housing, empowering, and striving to help those in need. This summer, you can leave your footprint by helping your neighbors. The Catholic Charities Summertime and the Giving is Easy Appeal is asking for your support. Donate to your choice of assistance, such as food, shelter, education or other support. The giving is easy! Your gift will make a positive impact on our less fortunate brothers and sisters! Please visit www.catholiccharitiesdov.org or mail a check to Catholic Charities,1000 Pinebrook Road, Venice, FL 34285.
Marriage prep for couples over 55
The Office of Family Life is offering a one-day marriage prep seminar for those couples over 55 years of age preparing for marriage or convalidation from 9 a.m. to 4 p.m., Aug. 28, 2021, at Our Lady of Lourdes. 1301 Center Road, Venice. A specially prepared volunteer team share their experiences and information with the intention of enabling couples to be more aware of the privileges and responsibilities of marriage. Pre-registration is required. Please register online at: https://dioceseofvenice.regfox.com/two-become-one.
Scholarships for Catholic Schools
Step Up for Students is a state-approved non-profit scholarship funding organization that helps administer four scholarships for Florida schoolchildren: the Florida Tax Credit Scholarship Program (FTC) for lower to middle income families, the Family Empowerment Scholarship (FES) for lower to middle income families and students with unique abilities (formerly Gardiner), as well as the Hope Scholarship. These scholarships could provide up to $7000 for a Catholic School education with 2021 adjusted income guidelines. Step up for Students will continue accepting applications throughout the school year. For the Diocese of Venice Catholic School application webpage visit https://www.stepupforstudents.org/swflcatholic/.
Catholic Alpha Online
Alpha Online is course where individuals meet virtually once a week via Zoom to discuss and share ideas about faith and God in an open, caring and non-judgmental way. The Diocese of Venice English Catholic Charismatic Renewal invites you to experience Catholic Alpha online from the comfort of your home, and to hear from notable Catholic speakers. These include newly appointed Cardinal Raniero Cantalamessa O.F.M. Cap., longtime Preacher of the Papal Household; Dr. Mary Healy; Father John Ricardo; and Father Mike Schmitz. Each course is Monday from 7 p.m. until 8:30 p.m. beginning Sept. 13 through Nov. 29, 2021.  For further information please contact Theresa Salvo at asolotogod@gmail.com or 804-387-8282.
2021 Marriage Preparation Retreats
The Diocesan Office of Family Life is offering "Day of Reflection" retreats for couples preparing for the Sacrament of Marriage. A specially prepared volunteer team of married couples and a priest will share their experiences and information with the intention of enabling couples to be more aware of the privileges and responsibilities of marriage. The retreats in English are from 9:30 a.m. to 5 p.m., on the following Saturdays: Aug. 7, and Nov. 13. Please visit https://dioceseofvenice.regfox.com/marriage-preparation-retreat-2021 to register for the English retreats. Retreats in Spanish take place: 9:30 a.m. to 5 p.m., Aug. 7 and Oct. 30 at St. Jude Parish, 3930 17th Street, Sarasota, and 8:30 a.m. to 4 p.m., Aug. 14 and Dec. 4, at Our Lady Queen of Heaven Parish, 355 S. Bridge Street, LaBelle. To register for a St. Jude retreat date please contact the parish at 941-955-3934. Please visit https://dioceseofvenice.regfox.com/retiro-de-formacion-matrimonial. to register for a retreat at Our Lady Queen of Heaven, For further information contact Carrie Harkey at 941-484-9543 ext. 3019.
New Catholic Institute course Aug. 24
The Institute for Catholic Studies and Formation is offering a 16-week graduate level online course starting Aug. 24, 2021 that introduces students to the principles, practices, and sources of Catholic Theology. The course "What is Catholic Theology? (Ecclesial Nature and Mission of Theology)" counts as a pre-requisite for those beginning the online MA in Theology and Christian Ministry at Franciscan University of Steubenville. (Franciscan offers Diocese of Venice students discounted tuition for this online MA). This course is also available to those who wish to attend for their own personal enrichment. For cost and other information and to register for the course, visit the Institute website at https://institute-dov.org/ or call 941-766-7334.
Year of Saint Joseph
On the Solemnity of Saint Joseph, March 19, 2020 Bishop Frank J. Dewane, in the context of the Coronavirus, consecrated the Diocese of Venice to the care and protection of Saint Joseph, and announced a "Year of Saint Joseph". Pope Francis recently dedicated a "Year of St. Joseph" therefore, the Diocesan celebration will continue through December 8, 2021. Saint Joseph, often referred to as the Protector, can be our protector during these troubling times. A 9-day Novena to Saint Joseph is included. This Novena can be prayed any time throughout the year. The novena and other resources can be found at https://dioceseofvenice.org/a-year-of-st-joseph.
Diocesan Marriage Conference Oct. 2
The Diocese of Venice in Florida and the St. John Paul II Foundation announce the "Together in Holiness Marriage Conference" that will be held from 10 a.m. to 5 p.m., Oct. 2, 2021, at St. Agnes Parish, 7775 Vanderbilt Beach Road, Naples and St. Thomas More Parish, 2506 Gulf Gate Drive, Sarasota. The speakers are Kevin and Lisa Cotter. For more details contact Carrie Harkey at harkey@dioceseofvenice.org.
Invitation to all Widows and Widowers
Come join the Our Lady of Mount Carmel Parish faith-sharing group for widows and widowers to grow together in holiness and the devout life.  The next topic will be: 'Praying with the saints, our mentors in the faith.' This 8-week series will be held on Wednesday mornings from 10:30 a.m. to noon, beginning on Wednesday, Sept. 1, 2021 at the Church, 435 S. Tamimi Trail, Osprey.  All are welcome!  For information and to join this group, please contact Marianne Cano at 941-966-0807/ext314 or send e-mail to mcano@olmc-osprey.org.
Food Distribution within Diocese
For various food distribution sites of Catholic Charities and Parishes throughout the Diocese of Venice, the days, times, and locations are listed below:
Guadalupe Social Services – 211 S. 9th St., Immokalee, Monday – Friday: 9 a.m.-12 p.m., Food Pantry and Soup Kitchen open daily. The Soup Kitchen Dining Room is open for dine-in and also provides take-out/meals-to-go.
Judy Sullivan Family Resource Center – 3174 Tamiami Trail E., Naples, Mondays – Fridays: 1:30 p.m.-3:30 p.m. and Tuesdays – Fridays: 9:30 a.m.-11:30 a.m.
St. Margaret Parish – 208 Dean Duff St., Clewiston, Thursdays: 9 a.m.-12 p.m.
Bonita Springs – 28360 Beaumont Road, Bonita Springs, Fridays: 9 a.m.-11 a.m.
Elizabeth K. Galeana Food Pantry – 4235 Michigan Ave. Link, Fort Myers, Fridays: 9 a.m.-12 p.m.
St. Paul Parish – Parish Hall, 1208 E Oak St., Arcadia, Fridays: 8:30 a.m.-10:30 a.m.
St. Francis of Assisi Food Pantry – 5265 Placida Road, Grove City, Monday, Wednesday, Friday: 9:15 a.m.-11:15 a.m., contact Megan at 941-697-4899 or megan@sfoachurch.com.
St. Jude Food Pantry, 3930 17th St., Sarasota, Wednesdays: 5 p.m.-6:30 p.m., Saturdays: 8:30 a.m. – 9:30 a.m. Please bring ID and do not exit your vehicle. Volunteers will load cars. Call 941-955-3934 if you have any questions or visit: https://www.stjudesarasota.com/info/st-jude-food-pantry-schedule.
Wauchula Food Pantry – 408 Heard Bridge Road, Wauchula, Saturdays: 7 a.m.-8:45 a.m., call the parish at 863-773-4089 if you require a different time or would like to support the efforts to assist the community.
St. Joseph Food Pantry – 3100 26th St W., Bradenton, Monday through Friday: 9 a.m.-12 p.m. Call 941-756-3732 with any questions. Please visit https://www.stjoepantry.com/ to donate money or food.