A large group of new teachers who have joined the Diocese of Venice for the 2021-2022 Academic Year were warmly welcomed during an orientation session on Aug. 2, 2021 at Epiphany Cathedral Parish Hall in Venice.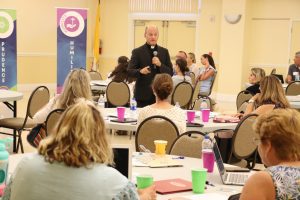 Father John Belmonte, SJ, Superintendent of Catholic Education, opened the meeting with morning prayer explaining that starting the day centered on God is part of our Faith tradition and focuses on what is important through the day. Father Belmonte later celebrated Mass for the group.
Throughout the day, the new teachers, who came to their new positions from a wide variety of personal and professional experiences and skills, learned about the history of the Diocese and the crucial role they will play in helping to build up the faith-life of the students and families with whom they will interact.
Bishop Frank J. Dewane addressed the new teachers, welcoming them and sharing his great respect for their answering the call be educators – taking the gifts they have been given to help others learn.
As Catholic School teachers, no matter what subject they teach, Bishop Dewane explained how they are now a primary contact for the students and families to the Diocese, a responsibility he expects them to take seriously in how they serve as teachers and as examples for the community.
To accomplish this, Father Belmonte said their work will reinforce the building of a "Catholic School Culture," wherever they are assigned. A "Catholic School Culture" is the vision, values, systems, language, expectations, behaviors, and beliefs that increase a school's and Diocese's chances of accomplishing its strategy of fulfilling its mission: to introduce the world to its Savior.
"This is fundamental to what we do," Father Belmonte said. "If students are getting a profound experience of a "Catholic School Culture," then you have a much better chance of fulfilling your mission… (The Education Department and the Diocese) are here because we want all of you to have wild, unbridled success to accomplish that mission."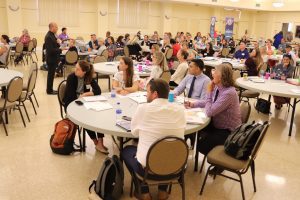 Being a Catholic educator is no easy task in a culture where there are countless external influences as people are bombarded by messages that are contrary to the Faith. This, Father continued, makes it increasingly difficult to get out the message of our Catholic traditions, values and faith into the world.
"We are facing huge headwinds as a Church and as a culture," Father Belmonte continued. "That just places, in my opinion, even more importance on what we do. In a sense it has never been more important to have you do what you do because of all the things our children and families face."
Jennifer Falestiny, Diocesan Curriculum Specialist, presented information about the ongoing expansion project-based learning effort that is increasing the STREAM (Science, Technology, Religion, Engineering, Arts and Math) model. She described the new partnership with FIRST® (For the Inspiration and Recognition of Science and Technology), the leading robotics competition in the world. This project will be placing students ahead of the curve in primary fields while continuing to promote core Catholic virtues by helping students to develop cognitive thought processes and gain skills such as leadership, communication, complex problem solving, teamwork and creativity. The FIRST® program will be active in various capacities when schools open on Aug. 9, 2021, with full integration within a few years.
This effort was made possible through the generosity of Bishop Frank J. Dewane who made a major investment in student success through his pledge to provide all Diocesan Catholic schools with age-appropriate kits and robots using LEGO products to eventually compete at the highest levels of competition through FIRST®. This is all being done while integrating Catholic values and virtues through the Diocesan curriculum called, "The Gifts of Christ: Truth, Beauty, Goodness, Affability, Fortitude, Humility, and Prudence."
The 15 Diocesan Catholic schools work conscientiously to provide Christ-centered learning experiences that are transportable to the real world and provide the opportunity for children to develop life-long learning skills and to be successful beyond the classroom.
During the orientation, the new teachers also took part in Diocesan Safe Environment training, and learned about their employee benefits from a representative of the Diocesan Human Resources Department, risk management, workplace safety, certifications process, as well as about standard and ethical conduct from Joseph DiVito, an attorney for the Diocese.
All Diocesan Catholic schools will open on Aug. 9. For more information about Diocese of Venice Catholic Schools, please visit https://dioceseofvenice.org/offices/offices-departments/catholicschools/.