The start of the 2019-2020 School Year brings new leadership to two Diocesan Catholic School.
St. Andrew Catholic School in Cape Coral welcomes David Nelson, and St. Ann Catholic School in Naples welcomes Michael Buskirk.
Diocese of Venice Superintendent of Catholic Education Dr. Ben Moore said a comprehensive selection process brought the best candidates to the two schools. That process included a dedicated search committee at each school which consisted of Diocesan, Parish and school leadership. Each new principal comes with the unique skills needed to lead their respective school into the future.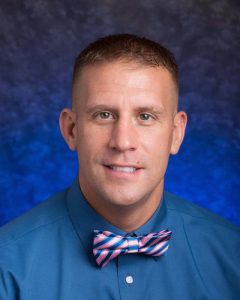 Nelson is a familiar face in the Diocese, having most recently served as Assistant Principal for Student Life at Bishop Verot Catholic High School in Fort Myers. Born in Kalamazoo, Mich., he attended Carthage College in Wisconsin, where he played baseball and earned an undergraduate degree in elementary education and later earned an advanced degree in educational leadership from St. Leo University in St. Leo, Fla. Nelson is also a graduate of the Diocese of Venice Principal Discernment Program and is on the Diocesan STREAM (Science, Technology, Religion, Engineering, Arts and Math) Committee and is a member of the Florida Catholic Conference School Accreditation Team. He taught at two elementary schools in Fort Myers and at the same was varsity baseball coach at a high school in Lehigh Acres.
While still teaching in elementary school, Nelson became as an assistant baseball coach at Bishop Verot and was part of the staff for the 2011 4A baseball state championship team. In 2012, he joined Bishop Verot as a teacher in theology, world history and world geography while also taking head baseball coaching duties. In 2014, he was named Dean of Students, then Assistant Principal for Student Affairs and finally as Assistant Principal for Student Life. He attends St. John XXIII Parish in Fort Myers with is family, where he is an Extraordinary Minister of Holy Communion.
"As a leader of a Parish school, I plan to work with (the priests) and will aim to create a professional ongoing Catholic learning environment, providing development opportunities for staff and teachable moments for our students," Nelson said. "It will be my mission to instill a sense of purpose, vision, optimism, and a Gospel message for success in those I lead."
St. Ann's new principal, Michael Buskirk is originally from Philadelphia, Pa. and holds an undergraduate degree in biology, with an education certification, from the University of the Sciences in Philadelphia, as well as graduate degree in educational leadership, with a principal certification, and an education specialist degree in leadership, with superintendent certification, all from the University of Missouri.
His first 11 years of teaching experience was in Florida at schools in Broward, Duvall (Catholic high school), and Clay counties, before taking a position with a Catholic School in the Diocese of Jefferson City. In 2015 Buskirk was appointed principal at a Catholic elementary school and in 2018 he has also took on the position as Administrator of Diocese Athletics for the Diocese of Jefferson City.
"I have found that giving people a voice and allowing their opinion creates an aura of ownership, which is extremely important in current times to keep private schools thriving," Buskirk stated. "My belief is that it takes everyone, parents, students, and parishioners to be successful. We are not just a school; we are a Diocese."
To learn more about St. Andrew Catholic School, please visit www.standrewcs.org; and for St. Ann Catholic School please visit www.stann.net/.
For information about all Diocese of Venice Catholic Schools, please visit www.dioceseofvenice.org.