St. Andrew Catholic School students began the school year in Cape Coral by helping other students in their community.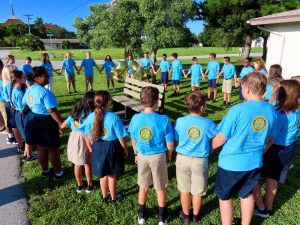 On the first Friday of the new school year (Aug. 16), students participated in a dress down (no uniforms) day to benefit the Cape Coral Safe Zone Park Bench Project, sponsored through the Rotary Foundation. As an extension of the Rotary Club, St. Andrew Catholic School hosts a RotaKids club.
Student mentors and club advisors decided the Cape Coral Safe Zone Park Bench Project was a perfect way to assist the community. The one-day collection of donations from the dress-down day was enough to sponsor a bench which was installed at the corner of the St. Andrew Catholic Church property.
RotaKids is a club for children up to 12 years and is an initiative created from the Rotary Club principles of helping ​​others. The children enjoy a boost of confidence and self-esteem at a key age and develop an understanding of how their actions can impact on others.
On Aug. 23, St. Andrew RotaKids, members of the Cape Coral Rotary Club, and other community leaders assembled for a special dedication of the bench.
After placing balloons on the bench, students joined hands in prayer and sang "Amazing Grace."
A plaque now adorns the bench thanking the RotaKids for their support of the Safe Zone Bench Project, a community wide project that began to help students remain safe at their bus stops.