Ordination to the priesthood Oct. 5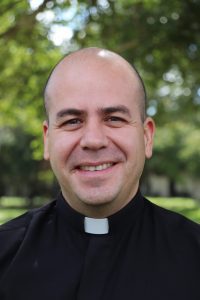 All are encouraged to attend the celebration of the Sacrament of Holy Orders at 11 a.m. Saturday, Oct. 5, Epiphany Cathedral, 350 Tampa Ave. W., Venice. Transitional Deacon Carlos Encina will be Ordained to the Priesthood by Bishop Frank J. Dewane. This in an important celebration for the entire Diocese as ordinations help to ensure the continued availability of the Sacraments. A reception will follow.
Bishop interviewed for series "The Chair"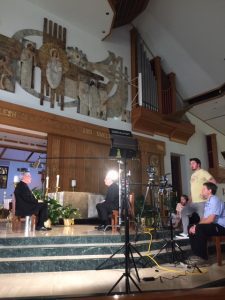 Representatives of DeSales Media visited Epiphany Cathedral in Venice Aug. 25-26 to produce a segment for a series about U.S. Cathedrals and their Bishops called "The Chair." which will air on NET TV, a channel of the Diocese of Brooklyn. In addition to filming the Cathedral and learning about its history, the team interviewed Bishop Frank J. Dewane.
Summer reading program a big success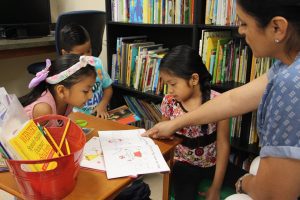 The students enrolled in the Summer Reading Program at Casa San Juan Bosco of Catholic Charities farm worker community in Arcadia took part in the Summer Reading Challenge. The program is funded through the generosity of The Patterson Foundation and is part of the Suncoast Campaign for Grade-Level Reading. The reading challenge takes place for nine weeks and 26 kindergarten to fifth grade students signed up for the program this summer at the farm worker community. The campers receive a wristband for the number of books completed and activities are coordinated to go with the reading materials for each day. Research shows that children who do not read during the summer can lose up to three months of reading progress and that the loss has a cumulative, long-term effect on them. But reading just six books, at the appropriate reading level, over the summer can prevent that "summer slide" and keep a struggling reader from regressing.
Anti-Human Trafficking Assistance Program challenge
Join the fight to end human trafficking. Today more than ever, victims of human trafficking need your support. To combat this serious issue, a concerned donor has pledged to match all contributions given to the Catholic Charities Diocese of Venice Inc. Anti-Human Trafficking Assistance Program up to $100,000. Double your donation through our benefactor's match to Catholic Charities. Survivors have vast needs. They begin with the basics of food, housing and clothing then move on to referrals to medical, legal and mental health providers and finish with life and job skills training to reach self-sufficiency. The goal is to end this modern-day slavery. Your gift will offer survivors the hope and help required to overcome their obstacles and achieve a healthy life. To make a donation, please visit www.catholiccharitiesdov.org.
Support Venice Diocesan CCW Seminarian Fund
The Venice Diocesan Council of Catholic Women invite all to join them in celebrating Priesthood Sunday, September 29, in a special and lasting way – by sending priests of your parish a Seminarian Fund "IN HONOR OF" card. Please remember that this is a gift that keeps on giving. The Diocese of Venice is currently educating 18 men in various seminaries. A donation of any amount will be a great help. The donation amount will not be revealed to the recipient. To take part, please send $1.00 plus your donation (made out to the VDCCW Seminarian Fund) to Cornelia Zanetti, 5808 Gulf Drive, #204, Holmes Beach, FL 34217. If you have any questions, please email Cornelia at corniez@aol.com.
Verot seniors perfect on college pre exams
Two Bishop Verot Catholic High School seniors, Connor Shovlin and Madison Tilton, have achieved perfection on the SAT and ACT. Connor received a perfect 36 on his ACT and a perfect 800 on the Math portion of the SAT. Madison received a perfect 800 on the Reading & Writing section of the SAT. Congratulations!
Naples School Fall Festival Oct. 12
St. Ann Catholic School is hosting a Fall Festival from 11 a.m.-2 p.m., Oct. 12 at the St. Ann Jubilee Center and School Field at 525 Ninth Ave. S., Naples. There will be fun for all, including: a chili contest, games, face painting, bounce house, bake sale, snow cones, food, line dancing and much more. The Festival will benefit the St. Ann Home and School Association. For more details, please call 239-262-4110.