Members of the Diocese of Venice Catholic English Catholic Charismatic Renewal (DVCCR) gathered on Pentecost Sunday to celebrate a Mass in honor of the Holy Spirit and the "Birthday of the Church."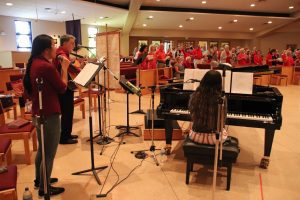 More than 120 participated in an afternoon of prayer, song and reflection at Sacred Heart Parish in Punta Gorda in the first in-person group gathering in more than a year, reuniting members of the 15 active English DVCCR prayer groups in the Diocese. The celebration culminated with Mass.
The significance of the English DVCCR gathering taking place on Pentecost was not lost on anyone. Pentecost marks the moment when the Holy Spirit filled the hearts of the apostles and sent them on their mission to evangelize to the world. This beginning, or "birthday" of the Church, is also the impetus for Charismatics, whose mission is to "stir into the flame the grace of Pentecost by promoting a personal relationship with Jesus."
Spiritual Advisor Father Anthony Lukka led the group in prayer, including the Chaplet of Divine Mercy. Inspirational music energized those gathered while several participants shared words of inspiration during the intervals.
English DVCCR President Renee Marazon expressed her joy about having old friends gathered together in prayer. The gathering served as a day of renewal as the different prayer groups work to reorganize as the world emerges from the Pandemic. The mission of the DVCCR is accomplished through prayer groups and spiritual growth experiences in meetings, retreats, days of renewal, workshops and conferences.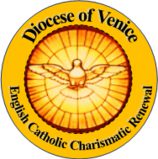 Mazaron said the leadership of the DVCCR met with Bishop Frank J. Dewane about its goals and plans. The Bishop agreed with the need to focus on building up the DVCCR prayer groups after the Pandemic.
To assist in this effort, it was announced that the Alpha Catholic Course is coming to the Diocese in October. This multi-week online course is an opportunity for participants to explore life and the Faith in a friendly, open and informal environment. Each talk looks at a different question about Christianity and is designed to facilitate discussion.
"The goal is to start a fire in the hearts of people after being locked up so long," said Alice Keough, English DVCCR Secretary. "We are all about evangelization and building the Kingdom of God."
To learn more about the Diocese of Venice Catholic English Catholic Charismatic Renewal, please visit www.dvccr.org or write to info@dvccr.org.