Student art on display at Fort Myers airport (held from last week)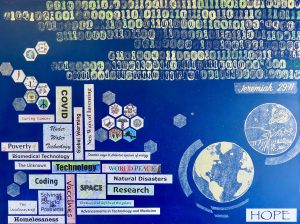 If you happen to be traveling through the Southwest Florida International Airport in Fort Myers sometime this year, take some time to check out the St. Andrew Catholic School student canvas on display in Concourse B. St. Andrew students in grades 5-8 participated in creating a collaborative canvas for the "Art In Flight" exhibit. Every couple of years the Alliance for the Arts coordinates with the Lee Art Educators Association to create student artwork for the exhibit. This year's theme was "New Frontiers," and students were challenged to question what would be the new frontier(s) for their generation. The title of our canvas is "Hope For Our Future". You can visit https://www.flylcpa.com/artinflight/ to learn more about the project and view the student artwork.
Deacon aspirants finish first year of formation
The 11 aspirants for the Diaconate Class of 2025 finished their first year of formation with a weekend retreat on May 22-23, 2021 at Our Lady of Perpetual Help Retreat Center in Venice. The retreat was led by Father Jim Simko, Parochial Vicar of St. Joseph Parish in Bradenton.
Religious Freedom Week coming soon
Solidarity in Freedom takes place from June 22 to 29. The Week begins with the Feast of Ss. John Fisher and Thomas More, ends with the Solemnity of Ss. Peter and Paul and includes the Feast of the Nativity of St John the Baptist. During Religious Freedom Week, Catholics are encouraged to pray and act each day for religious freedom. The (USCCB) United States Conference of Catholic Bishops' Pray-Reflect-Act Series aims to help Catholics build solidarity with people of faith who are persecuted and find strength to carry out the mission of the Church here in the United States. For resources and reflections each day of this week, please visit https://www.usccb.org/committees/religious-liberty/religious-freedom-week.
2021 Marriage Preparation Retreats
The Diocesan Office of Family Life is offering "Day of Reflection" retreats for couples preparing for the Sacrament of Marriage. A specially prepared volunteer team of married couples and a priest will share their experiences and information with the intention of enabling couples to be more aware of the privileges and responsibilities of marriage. The retreats in English are from 9:30 a.m. to 5:00 p.m., on the following Saturdays: August 7, and November 13. Please visit https://dioceseofvenice.regfox.com/marriage-preparation-retreat-2021 to register for the English retreats. Retreats in Spanish take place: 9:30 a.m. to 5:00 p.m., August 7 and October 30 at St. Jude Parish, 3930 17th Street, Sarasota, and 8:30 a.m. to 4:00 p.m., August 14 and December 4, at Our Lady Queen of Heaven, 355 S. Bridge Street, LaBelle. To register for a St. Jude retreat date please contact the parish at 941-955-3934. Please visit https://dioceseofvenice.regfox.com/retiro-de-formacion-matrimonial. to register for a retreat at Our Lady Queen of Heaven, For further information contact Carrie Harkey at 941-484-9543 ext. 3019.
Ave Maria University 12th Annual Youth Conference
All high school age youth from incoming freshman to outgoing seniors are invited to join us for the 12th Annual Ave Maria University Youth Conference "FEARLESS" July 9-11th at Ave Maria University. This incredible weekend will be full of faith, fellowship, music, and great speakers! The special rate for this year's conference is only $130 per person and includes lodging, meals, and conference fee PLUS a cool t-shirt! Call or email 239-348-4725 or aveconferences@gmail.com or visit us at www.aveconferences.com for more information.
Time capsule dug up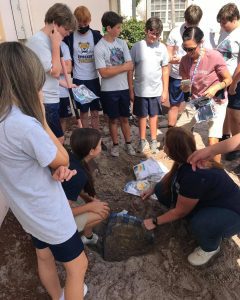 The eight graders at Epiphany Cathedral Catholic School in Venice opened up a time capsule on May 19, 2021, revealing what they buried as fifth graders. Among the items were photos and articles about the students, as well as notes to their future selves.
Students write children's book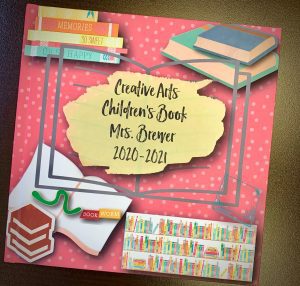 The work of St. John Neumann Catholic High School students in the Creative Writing class of Cindy Brewer culminated in mid-May through a published hardcover book that included stories written and animated by the class.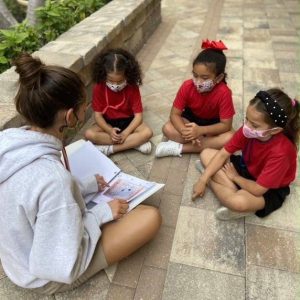 Each student used a monster friend to help conquer a specific fear. Once published, these freshman and sophomores visited nearby St. Elizabeth Seton School and read their stories to the kindergarten class.
Mooney hires new baseball coach
Cardinal Mooney Catholic High School in Sarasota is thrilled to announce Mike Mercurio as the new head varsity baseball coach for the Cougars. Mercurio is an alumnus of Cardinal Mooney, Class of 1985, and has been coaching for Cardinal Mooney for nine years, the last three as the head junior varsity coach for the Cougars. His coaching experience and devotion to the Cardinal Mooney baseball team brings a wealth of knowledge to his alma mater. Mercurio is currently a Lieutenant with the Sarasota County Sheriff's Office and will be retiring this summer after 34 years. Together with his wife Karen, they have two daughters that are also graduates of Cardinal Mooney.