Three of the four Diocese of Venice Catholic high schools held their commencement exercises in mid-May, sending off their graduates well prepared for a bright future.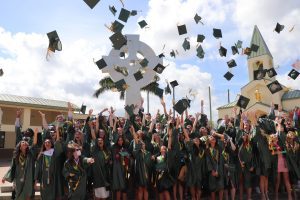 Ahead of each graduation, Bishop Frank J. Dewane celebrated a Baccalaureate Mass, sharing a hope-filled message that they must each "go forth with God as your guide and let Faith, hope and love be your path through life."
Bishop Dewane praised the graduating seniors for their academic and athletic accomplishments through the years, having overcome the impact of a global pandemic, emerging ready to move on to the next phase in their lives. Thanks to the unrelenting encouragement of their parents and teachers, they have been guided through their time in high school.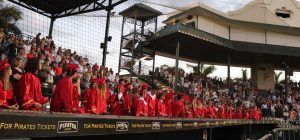 "What you have done is an accomplishment," Bishop Dewane stressed. "Your future may be uncertain, but your Faith is not uncertain. I say this to the Class of 2021, God goes with you. That is where your Faith resides. The house of hope in your life. The source of love that lasts forever. What is most important is who you are within. Your Faith can stay with you and make you strong. But it is you, the Class of 2021, that have to be the doers of your Faith. Your pastors can't do it for you. Your parents can't do it. Your teachers can't do it. Graduation means all of that is up to you now."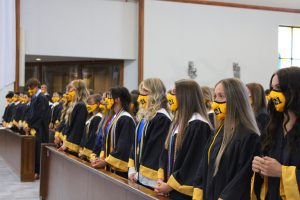 Encouraging the graduates to go forward with their Faith, Bishop Dewane reminded them that they need to continue to go to Mass, to live the Commandments, receive the Sacraments often, go to confession, to actualize the presence of God in their lives, and to witness it to those around them.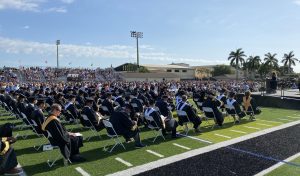 "Do all of those things, even though no one tells you. Use that opportunity to become more that man or woman of God you are called to be. Believe that the Lord is with you always."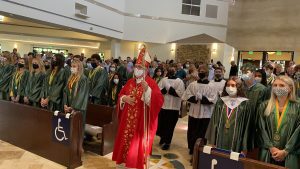 Bishop Dewane expressed his gratitude to the parents of the graduates for entrusting their children to Diocese of Venice Catholic high schools. He also publicly thanked the teachers and faculty for their commitment to the students and being their guides along their spiritual and academic journey.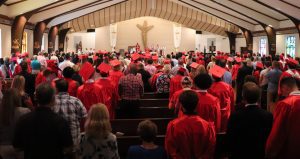 The Cardinal Mooney Catholic High School Baccalaureate Mass was May 12, at Incarnation Parish in Sarasota while the Commencement Exercises were held May 14 at LECOM Park in Bradenton. The Bishop Verot Catholic High School Baccalaureate Mass was May 14 at St. Andrew Parish in Cape Coral and the Commencement was held May 15, in their Viking Stadium in Fort Myers. The St. John Neumann Catholic High School Baccalaureate Mass was May 17 at St. John the Evangelist Parish in Naples and Commencement was May 18 on their football field.
The Baccalaureate Mass and Commencement for Donahue Catholic Academy of Ave Maria Parish in Ave Maria will be May 27.
Please check back with the Florida Catholic e-Edition in the coming weeks for more information about the resilient Diocese of Venice Catholic high school Class of 2021.