What a difference a year makes.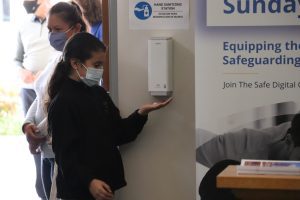 It was on March 19, 2020 that the celebration of public Masses was suspended within the Diocese of Venice. On that day, the Solemnity of St. Joseph, sadness and worry prevailed for an occasion normally set aside to celebrate and honor the foster-father of Jesus Christ, spouse of the Blessed Virgin Mary and Patron of the Universal Church who is also guardian and protector of the Church and Her faithful.
It was also on that day the Diocese of Venice began its celebration of a "Year of St. Joseph." "Particularly in this time of uncertainty in light of the coronavirus Pandemic," Bishop Frank J. Dewane said at the time: "It is appropriate to seek the intercession of St. Joseph, a saint whom we look for guidance and protection."
One year later, the Solemnity in 2021 takes on a new meaning of hope as the Diocese has made great strides in the effort to return to all pre-pandemic activities. Numerous successful events, including conferences, Masses and prayer walks, have brought an approach of normalcy to people of the Diocese, through spreading the "Good News of the Lord."
For the Solemnity this year, the Bishop is celebrating a traditional Mass in Italian. Diocesan school children who have been taking part in a St. Joseph Devotional Project will also be recognized at a special event. The Diocesan "Year of St. Joseph" has been extended to Dec. 8, 2021 to coincide with a Universal Year dedicated by Pope Francis.
The Diocese resumed public Masses on May 18, 2020 with up to 50 percent capacity, social distancing, and mask requirements, as well as enhanced cleaning protocols, all of which remain in place to this day. While visiting any Parish within the Diocese of Venice there are signs requiring all to wear masks and maintain social distancing. The ubiquitous hand sanitizer is also there. Behind the scenes are dedicated people who do deep cleaning.
Catholic schools and Parish religious education programs went to virtual learning in the spring and summer of 2020 before a massive effort was made to enable in-person instruction by August at all schools and for most religious education students.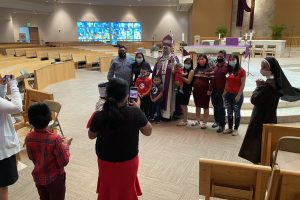 The results have been inspiring during a time of great sorrow and struggle as everyone was impacted by the Pandemic in some way. There have been no outbreaks linked to the celebration of Mass in the Diocese, in-person instruction or for that matter at Diocesan or Parish events. Therefore, confidence has built in the effectiveness of the Diocesan safety precautions. Therefore, the number of people returning to Sunday Mass has steadily increased while at the same time the number of students learning virtually has correspondingly dropped for the same reason. In fact, only 3.4 percent of all Diocesan Catholic school students are currently remote learning.
This success has come about through the leadership of Bishop Dewane, in conjunction and consultation with the priests, principals, Chancery and numerous internal and external professionals, in coordinating the Diocesan efforts during this evolving process while implementing these policies across 61 Parishes and 15 schools.
As we celebrate the Solemnity of St. Joseph, let us reflect upon the past year in remembrance of those we have lost and those who have struggled in any way.
The Holy Father in declaring the Universal Year of St. Joseph against the backdrop of the Pandemic, which, he stated, has helped us see more clearly the importance of "ordinary" people who, though far from the limelight, exercise patience and offer hope every day. In this, they resemble St. Joseph, "the man who goes unnoticed, a daily, discreet and hidden presence, who nonetheless played an incomparable role in the history of salvation."