The Diocese of Venice is uniformly strengthening STREAM education in 15 Diocesan Catholics Schools through investment in a partnership with FIRST®, a global robotics community, "For Inspiration and Recognition of Science and Technology," placing students ahead of the curve in primary fields while continuing to promote core Catholic virtues.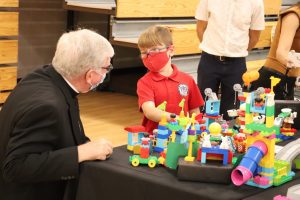 This initiative came about under the direction of Bishop Frank J. Dewane who said the investment is a means to an end, an upping of the skills taught at each Diocesan Catholic school.
"It is all about investing in our students because they are our mission and we want them to succeed; to become the leaders, the professionals, the faith witnesses of tomorrow," Bishop Dewane added. "This will develop our students into who they are becoming as men and women of God; and therefore, who they will become ethical scientists, ethical business people, ethical engineers and all of that has to be built upon a base of Faith."
A gift of 500 robots and curricular resources were presented by Bishop Dewane to Diocesan Catholic Schools on March 10, 2021 in the Zazarino Center of St. Martha Catholic School and St. Mary Academy in Sarasota. Present in support of the announcement were Catholic school principals and numerous priests. Greg Harrell, a Cardinal Mooney Catholic High School alum, who is an engineer and designs bridges, praised the Diocesan initiative and said "You had me at robots!"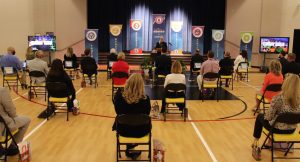 Bishop Dewane explained that he understands the students of today and tomorrow need to be rigorously challenged through STREAM – Science, Technology, Religion, Engineering, Arts and Math. As an educational leader, the Bishop is making a long-term investment in student success through his pledge to provide all Diocesan Catholic schools with age-appropriate kits and robots to compete at the highest levels of competition through FIRST® while integrating Catholic values and virtues through the Diocesan curriculum called, "The Gifts of Christ: Truth, Beauty, Goodness, Affability, Fortitude, Humility, and Prudence."
These kits use LEGO products, such as Duplo blocks for the youngest students, and more traditional blocks for older students. Each progressive kit increases with difficulty and broadens the concepts learned in earlier years. By middle and high school levels, students will be building competition robots.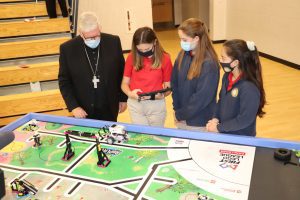 Students from PK-3 through Grade 12 will join others worldwide for age-appropriate learning, designing, and building robots of all sizes while offering young people a chance to proudly dream of working as true leaders in science and technology fields. Through teamwork and competition, students gain self-confidence and valuable, real-world skills that can open pathways for all types of career choices in STREAM.
The March 10 presentation included a press conference and demonstration of robots by students from St. Martha and St. Mary. The students showed Bishop Dewane how they use a computer to program a small robot through an obstacle course while doing various tasks. The younger students shared different projects they worked on in the days leading up to the event. Each student expressed to the Bishop how exciting it is to work with the robots and blocks all while learning many skills.
St. Martha and St. Mary joined St. Charles Borromeo Catholic School in Port Charlotte, St. Francis Xavier Catholic School in Fort Myers and St. Andrew Catholic School in Cape Coral in being part of the pilot introduction for the robotics program.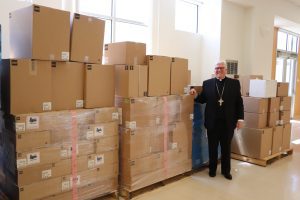 While robots are a major part of the FIRST® program, it is just a tool that expands upon the idea of project-based learning and cognitive thought processes, helping to develop skills such as leadership, communication, complex problem solving, teamwork and creativity. All of this is being done with an added dimension of our Catholic Faith which remains the first job of all Diocesan schools.
"Every student attending Diocese of Venice Catholic Schools from this point forward will have this curriculum and these activities on a daily basis," said Father John Belmonte, SJ, Diocesan Superintendent of Catholic Education. "We are the only Diocese in full partnership with FIRST, and the K-12 program combines to position our students to learn lessons and develop the skills necessary to be leaders of the future."
Jennifer Falestiny, Diocesan Curriculum Specialist, who helped to facilitate the partnership between the Diocese and FIRST®, said schools will begin integrating the program for the final quarter of the 2021 academic year. The balance of schools and teachers will be introduced to the project in June for implementation in the 2021-2022 academic year.