Catholic schools and Parish youth groups across the Diocese of Venice learned a valuable lesson ahead of Thanksgiving: to be thankful for what they have and how wonderful it feels to give to others.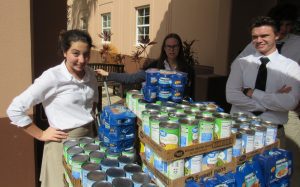 Thousands of cans of food and other non-perishable items were collected and then delivered to various Catholic Charities, Diocese of Venice, Inc. food banks or those of the Society of St. Vincent de Paul.
For example, at St. Francis Xavier Catholic School in Fort Myers the students took part in the school's annual "Share Your Blessings" canned food drive. The drive was led by the National Junior Honor Society in partnership with the Knights of Columbus and collected more than 3,500 items for the nearby St. Vincent de Paul Society which helps feed those in need. Top collecting classes earned a prize of holiday cookies.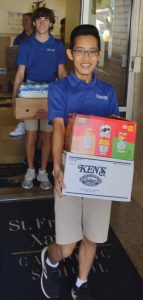 This important lesson of giving back resonates with students of all ages and is a strong representation of the Catholic Social Teaching regarding charity, where one doesn't just give but gives from the heart to everyone in need regardless of their race or religion because "Christ is all and in all."
Although many world religions uphold charitable work, it is specially emphasized in the Christian Faith and is a central message found in the Gospels. For example, in Colossians 3:11 we are instructed to love our neighbors because they are the children of God as we are all part of the same human family and share the same nature, needs and dignity.
This is why the smiles on the student faces last a little bit longer as they learn to appreciate that their combined hard work translates into food on the table for many families in the community who are less fortunate.
When organizing food drives, many Catholic schools often have friendly competitions amongst the different classrooms and grade levels.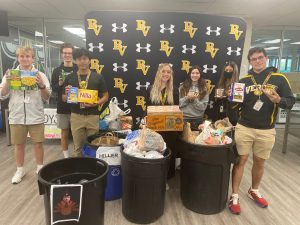 This went to an extreme level at Donahue Academy of Ave Maria Catholic School in Ave Maria, where the whole school took part in a massive, canned food drive competition to help the Guadalupe Social Services of Catholic Charities in Immokalee.
How massive? One local store had to stay open two extra hours as the students were buying so many cans. Then, when the stores ran out of cans, the students collected rice, pasta and more. This created a temporary counting problem as the faculty tried to figure out the equivalent value of a canned item versus a bag of rice or box of pasta.
The result was a massive 6,000 items of food. So much that it took more than one trip to deliver everything to the grateful staff of Catholic Charities.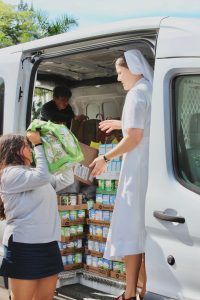 The competition was also fierce at Bishop Verot Catholic High School in Fort Myers where students put their donated food items into large cans labeled with the name of favored teachers or faculty members. The name which had the most food was obligated to wear a turkey outfit after school on Nov. 19, 2021 – the start of the Thanksgiving break – and wave to all of the families and students. The "winner" was Matt Hiller, Assistant Dean of Students who gladly wore the outfit and held a sign as he waved and gobbled – "Save a TURKEY – Eat PIZZA!"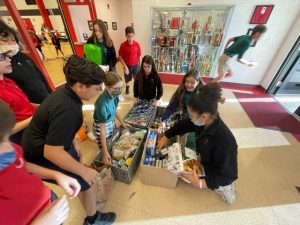 At St. John Neumann Catholic High School in Naples the students, faculty, and staff delivered a total of 6,474 items to Catholic Charities. In addition to the school-wide food drive, the Celtic baseball team decided to go above and beyond and host an additional food drive, donating more than 200 items to another area charity.
Nearby, St. Elizabeth Seton Catholic School students collected over 1,000 pounds of food and over $250 from a dress down (non-uniform) day collection.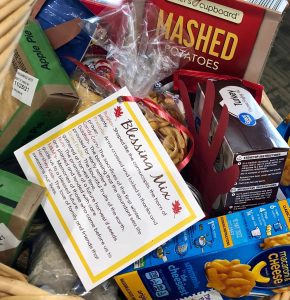 Not to be forgotten, the St. Columbkille Parish Youth Group & Faith Formation families came together to donate and assemble many large baskets of food. This was in addition to turkeys donated by the Knights of Columbus.
These were just a few examples of the generosity and charity from the students and youth of the Diocese of Venice leading up to Thanksgiving. The lessons of charity were well learned and countless families were the beneficiaries of their generosity.