Crisis brings out best in people
"We would be here even if it was to help one family."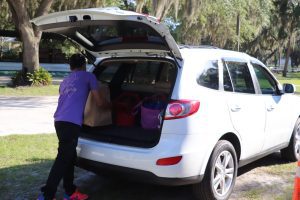 This was the assertion made by Maria DeJesus the director of St. Jude Parish Food Pantry in Sarasota. In existence since the Parish was founded in 2006, the food pantry, which sits in a mobile home at the rear of the Parish property, normally assists a few dozen families each week. Most of these families are down on their luck or in need of emergency supplies because of other unexpected expenses.
The COVID-19 Pandemic changed the dynamics in the community as many families were struck with unforeseen job loss as well as an uncertain future. "We jumped to helping more than 120 families each week," DeJesus explained. "It was shocking, but we responded in the best way we could; with prayers, hard work and the grace of God."
Appeals for financial support went out and the faithful responded either with food or financial donations. With All Faith's Food Bank – a primary source for supplies – nearly depleted because of the same demand, DeJesus and other volunteers purchased food at local stores – whatever they could get their hands on.
"It was tough," she explained. "The stores didn't have much, but we talked to the managers and they worked with us to get what we needed. They understood that our food was feeding people who might otherwise starve without our help."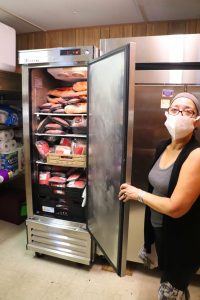 Starvation might seem like an extreme statement, but when families lose jobs and bills continued to come in, difficult choices must be made. Food becomes a luxury item and as the home cupboards emptied, they turned to the one place they trusted – the Parish.
Father Celestino Gutierrez, Pastor of St. Jude, said he is proud of the work being done through the food pantry and ensure they have what is needed to meet the demand.
"When we built the Church, I made sure we had this food pantry," he explained. "I purchased this used mobile home (which holds the pantry) so that we had something when people came to us for help, we would always be there."
Father Gutierrez said the Catholic Church is a beacon of hope for the world and in turn the Parish food pantry is an important part of that hope for the local community. "We are called by Jesus to help the least of our brothers (Matt 25:40). We must always remember to do that."
As a vehicle approached on a recent Wednesday evening, the driver's face was unfamiliar, but the story was not: job loss, hardship, worry, need.
Two overflowing bags of food were loaded into the back of the vehicle as the driver said she was thankful and wanted to get out and give them a hug. Of course, there are no hugs during social distancing, but the thanks and gesture were appreciated.
DeJesus said the peak demand has tapered off since mid-June as businesses are reopening and people go back to work, but there are still upwards of 60-80 families coming to the food pantry during the two distribution times each week (5-6:30 p.m. Wednesdays and 8:30-9:30 a.m. Saturdays). That translates to hundreds of mouths being fed. The pantry offers food that will last families for about two weeks, offering various dry good, and when available, meat, fruit and vegetables.
"No matter the demand, we will be here," DeJesus said.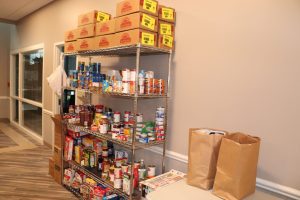 That same attitude is found at other Parishes which established emergency food pantries. St. Peter the Apostle Parish in Naples set up its emergency food pantry in the Spirit Center, a place where receptions and fun events normally take place. Directed by John Toti, the Parish Events Coordinator in other times, who noted that locally those working in service industries were particularly hard hit and requests for help came pouring in, even as the Parish offices were closed to visitors.
"In the past we would have either directed them to go to Catholic Charities or the St. Vincent de Paul Society, or even given them a gift card to a nearby store," Toti explained. "But everyone was hit with demand all at once, so we knew we had to do something else."
An emergency request was made to Catholic Charities and the response was positive as Toti previously volunteered at the nearby Judy Sullivan Family Resource Center, a facility run by Catholic Charities which includes a large food pantry. A general appeal to parishioners for donations generated its own overwhelming response and for the past eight weeks food has been made available to all.
"It is the right thing to do," Toti said. "We are here every day (10 a.m.-3 p.m.) and provide a good mix of food that will last."
While St. Jude and St. Peter the Apostle are not the only Parishes to step up during this crisis, either through their own food pantry or through donations from local organizations, the acts of generosity is not limited to these groups.
For example, St. Martha Catholic School in Sarasota recently announced the generosity of Cardinal Mooney Catholic High School student and St. Martha Alumnus, Mallory Albritton who heard about needy local families and decided to help.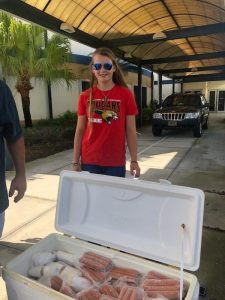 Mallory, along with Total Tennis Sarasota owner, Phil Perrla and his wife, Epp Miller, donated the meat from their hogs. Mallory bought hers through the 4H Market Swine Project with her own money ($1,300) specifically to donate to families while Perrla and Miller won theirs in the 4H Foundation Raffle. Mallory also paid with her own money to process the meat that was donated.
These donations will help seven families in need from St. Martha Catholic School, St. Mary Academy and Incarnation Catholic School, all in Sarasota. The donation included multiple packages of sausage, pork chops, ham steaks, hams, hocks, picnic shoulder, Boston butt, roast, spareribs and bacon!
Siobhan Young, St. Martha Principal, said she was visiting Albritton Fruit Farms a few weeks ago and was approached about the business wanting to donate the pork and asked if she knew anyone who was in the school that needed help. The farming family has had children and now grandchildren attend St. Martha.
"There are families at the schools that have lost jobs and were regularly using food pantries to sustain them," Young explained. "The meat they received is up to a 4-week supply."
These are just a few examples of the action taking place throughout the Diocese of Venice, not just in Parishes but by individuals. The hard work taking place is often done without fanfare or recognition, but it is an effort that is making a difference to our brothers and sisters in need.
If you know of any acts of kindness during the COVID-19 Pandemic that you think should be recognized, please contact Bob Reddy at 941-486-4701 or reddy@dioceseofvenice.org.
How to help
St. Jude Parish Food Pantry
3930 17th St., Sarasota, FL 34235
941-955-3934
www.stjudesarasota.com/support-us
St. Peter the Apostle Parish
5130 Rattlesnake Hammock Road
Naples, FL 34113