Bob Reddy – Florida Catholic
11/15/2018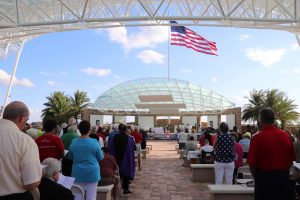 It was 100 years ago, on the 11th hour of the 11th day of 1918, when the guns fell silent and horror that was World War I was over. Each year Nov. 11 is set aside to honor all veterans, both living and deceased, who have served their country to defend the freedoms that are cherished to this day.
For the ninth year, the Diocese of Venice has celebrated a Catholic Veterans Day Mass at Sarasota National Cemetery which drew more than 1,500 people.
Paul Zielinski, who served in Korea with the U.S. Army for two years, stood tall and proud as he sang during the National Anthem just prior to the Mass. A member of the choir at Our Lady of Lourdes Parish in Venice, he said it is a privilege and honor to attend the Catholic Mass at the National Cemetery each year.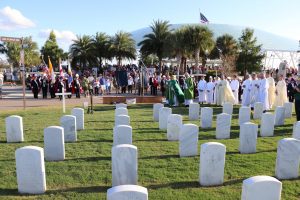 "I am proud to have served and proud that the Catholic Church celebrates and honors its veterans each year," said Zielinski, who has attended the annual Mass for the past three years. "I will be coming back every year as long as I am able."
Another veteran who enjoys the Catholic Mass each year is Emma Raymond, who served during World War II as a truck driver in the Women's Army Corps (WAC), and is also a parishioner at Our Lady of Lourdes.
"It is so beautiful," Raymond said. "Veterans are often forgotten, but we did so much. It is nice to be honored in this special way."
Father Jack Costello, Rector of Epiphany Cathedral in Venice, celebrated the Mass for Bishop Frank J. Dewane, who was unable to attend due to a commitment at the annual meeting of the United States Conference of Catholic Bishops. More than a dozen Priests and several Deacons joined Father Costello.
Noting that veterans served with faith in God and country, Father Costello said they gave of themselves unselfishly and trusted that they would be able to do the Will of God when called upon.
So many veterans served unselfishly through their Faith in God, literally giving a part of themselves that they will never get back, Father Costello continued. Approximately 19,000 veterans and their spouses are interred in the National Cemetery.
"Many would say that through their service they have been blessed by our Loving God in many different ways and would not change a thing," Father concluded. "We must never forget what they did for each one of us and what they did to do God's Will."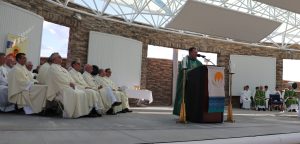 Adding to the dignity and ceremony of the day were active and retired veterans, as well as the Fourth Degree Knights of Columbus who formed a Color Corps, and many other Knights who were there to support the veterans.
Veterans Day began as an informal celebration to mark the conclusion of World War I, before being designated as a national holiday in 1954 to honor all military men and women who have sacrificed so much in their service to this country.
The Sarasota National Cemetery celebration concluded with a procession, escorted by the Knights of Columbus Color Corps, to the nearby graves as those in attendance sang "God Bless America." Priests, Deacons, and about 30 members of the Knights of Columbus Color Corps Honor Guard and all present, gathered in silent prayer before "Taps" was played on a bugle.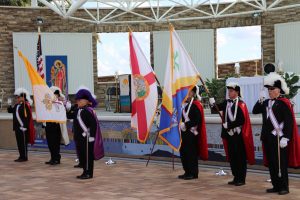 The Diocese of Venice coordinates the Catholic Mass at the cemetery with the support of the Knights of Columbus. One of the graves is that of Father Robert G. Tierney, a former assistant at St. Joseph Parish in Bradenton, who served in the U.S. Navy. Father Tierney died in 2006 and was one of the first people buried in the cemetery.