A cold wind did nothing to deter those gathered for the 24th Annual Sarasota Prayer Walk for Life on Jan. 18, 2022, as they stood in prayerful witness for the unborn outside of a large abortion facility.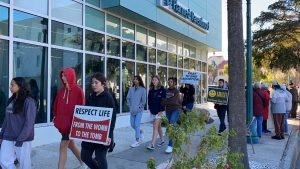 Temperatures were in the mid-40s at the start of the Prayer Walk, but the need to stand witness as a voice for the voiceless was compelling as the walk coincided with the day abortion appointments take place at the regional headquarters of Planned Parenthood near downtown Sarasota.
Prior to the Walk for Life, Bishop Frank J. Dewane celebrated the Mass at nearby St. Martha Parish. There he stressed that abortion is not a political problem, but a moral issue – the taking of a human life.
"As today's Old Testament reading tells us, we are asked to hear that call of the Lord in life – to stand up and be one who is willing to speak out," Bishop Dewane said. "This means being active in the ministry of safeguarding life in a manner worthy of the human person, in a manner worthy of the call you received."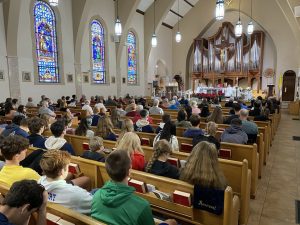 The Bishop said we should all be uplifted by news of restrictive abortions laws in Texas and Mississippi, but we should not let our guard down as other states (New Jersey and California) are working in the opposite direction.
"We must be humbled by the Grace of God, in light of what has been achieved," Bishop Dewane continued. "This is a defining moment in our nation; a chance to promote an authentic Culture of Life. But that Culture of Life must be carried across the spectrum as we fill the moral void and defend life from conception to natural death."
Among the Prayer Walk participants were a group of about 80 students from Donahue Catholic Academy of Ave Maria Parish Pro-Life Club. This club travelled to St. Augustine earlier in the week to visit the National Shrine of Our Lady of La Leche where their Pastor, Father David Vidal, celebrated Mass for the group. The teens then spent the night in Sarasota before participating in the Sarasota Prayer Walk for Life.
One Pro-Life Club student expressed joy at being able to participate in the Prayer Walk knowing that she is being an example for others to follow.
"We are here to show that our generation cares about life," she added. "Being here is where God wants us. We are the Pro-Life generation!"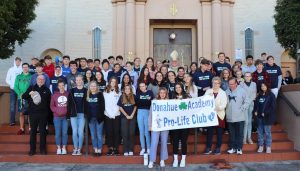 Students carried a variety of pre-made and hand-made signs: "A-D-O-P-T-I-O-N – Pray to End Abortion," "Respect Life: From the Womb to the Tomb," "Smile: Your Parents Chose Life," "Protect the Unborn Life," "Jesus Loves You," "18 days after conception, my heart is beating."
Sidewalk counselors and participants in the Prayer Walk were excited to see so many young people standing up for life.
"They are the one's who will be here when I can't be out here anymore," one counselor said.
The Prayer Walk for Life, and similar ones in the region, are held in solidarity with the National March for Life scheduled for Jan. 21 in Washington, D.C. and a Florida March for Life on Jan. 15, in St. Augustine.
Annually a large group from the Diocese of Venice, mostly composed of youth and accompanied by Bishop Dewane, participate in the National March for Life. The 2021 March was postponed and became a virtual event. This year, about 70 teens, mostly from Bishop Verot Catholic High School in Fort Myers and Cardinal Mooney Catholic High School in Sarasota, are expected to represent the Diocese along with a group of 100 from Ave Maria University.
Meanwhile, a Prayer Walk for Life took place on Jan. 15 at St. Francis of Assisi Parish in Grove City. This annual walk includes a procession around the Parish grounds and the praying of the rosary drawing nearly 100 people. The walk is a call to end abortion, but participants are also reminded that they stand as witnesses to the dignity of the human person and the event is truly a celebration of life.
Other prayer walks are scheduled for Jan. 22. One is slated to begin at 9 a.m. on U.S. 41 near St. Leo the Great Parish in Bonita Springs. At 10:30 a.m., a first-ever Walk for Life and rally will take place in Ave Maria by the football field. This is a joint effort of Ave Maria Parish, Ave Maria University and Community Pregnancy Clinics, Inc., and will include guest speakers including Bishop Dewane.
Praying for life in the Diocese of Venice takes place year-round. To learn more about how to support life, please visit www.dioceseofvenice.org/respectlife.