On a recent Saturday morning Frank and Maryann Lagonigro could be found in the oppressive heat holding up signs along U.S. 41 in Naples encouraging people to pray for our country.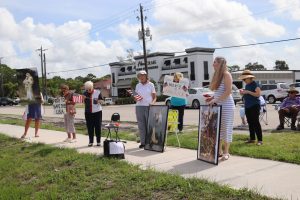 The uncomfortable weather was no deterrent for the couple from St. John the Evangelist Parish, who, along with others, regularly prayer to God for the protection of the country but also have real fears about the state of religious freedom in the U.S. They gathered on U.S. 41 at Pine Ridge Road across from the Waterside Shops and have been doing so since March.
"This is one of the best ways we can spread the Word of God and Blessed Sacrament in prayers for our country," Maryann Lagonigro said.
With American flags lining the sidewalk, the group held up images of the Divine Mercy, the Blessed Mother and Child Jesus, and St. Michael the Archangel as well as a variety of signs, which read; "Pray to Save the U.S.A.," God Have Mercy on America" and "God Save Our Country."
The prayer vigil included the Divine Mercy Chaplet and praying of the rosary and serve no political purpose except to raise awareness.
The prayer vigil occurred July 26, 2021, during the heart of national Religious Freedom Week which was designated by the U.S. Conference of Catholic Bishops for June 22 to June 29.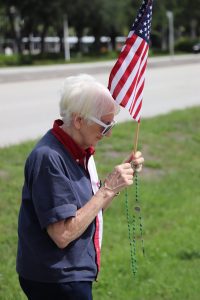 The goal of Religious Freedom Week is for all Catholics across the United States to pray, reflect and take action in support of Religious Liberty in our country and abroad.
Bishop Frank J. Dewane dedicated his monthly radio show on Relevant Radio to the topic of Religious Freedom. The program debuted on June 25 and access to the program is available at https://dioceseofvenice.org/our-bishop/relevant-radio-podcasts.
During the show, Bishop Dewane asked everyone to follow the USCCB's lead in prayer, reflection and action by seeing "how it is the Lord calls each one of us to act on this issue central to our freedom. We need to look at recent events in our society. The rights of Catholics and other faith groups are being threatened. There are not beheadings, as was seen in Iraq, but it is still persecution. They are not so blatant, but they are there, and they are a real threat."
The theme for Religious Freedom Week 2021 was "Solidarity in Freedom," and stems from a Pope Francis quote: "Solidarity means much more than engaging in sporadic acts of generosity. It means thinking and acting in terms of community." This quote is from the Pope Francis Encyclical "Fratelli tutti (On Fraternity and Social Friendship)" which was released in October 2020.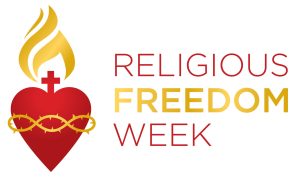 Bishop Dewane said that we do have to act when religious freedom is threatened for all faiths, not just Catholics. "It is all about solidarity; just because I am not of one particular faith does not mean I will not speak out when religious freedom is threatened anywhere…  It's not just when it is on (Catholics), it is when it happens period."
A recent area of concern was an effort to suppress a Catholic Charities entity in Philadelphia from allowing the agency a contract for adoption services. On July 17, the U.S. Supreme Court rendered a unanimous decision stating that the city violated the First Amendment by refusing to contract with Catholic Social Services once it learned that the organization would not certify same-sex couples for adoption.
"The Free Exercise Clause of the First Amendment, applicable to the States under the Fourteenth Amendment, provides that 'Congress shall make no law . . . prohibiting the free exercise' of religion," Chief Justice John Roberts wrote.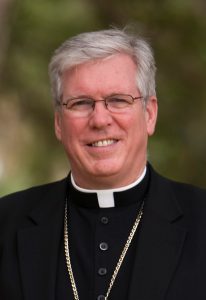 While this was a major victory for religious freedom, Bishop Dewane said there is much work to be done at every level of government and in the courts. Among items of ongoing concern includes seemingly never-ending battle between the Church and the HHS Mandate which requires entities to pay for abortion coverage in health care. This was actually the start of the modern religious freedom effort of the Catholic Church which dates to 2012 when massive "Religious Freedom Rallies" were held nationally and right here in the Diocese of Venice with Bishop Dewane on the front lines raising awareness.
Another example of religious freedom under attack has been the rampant acts of vandalism against Catholic Churches, synagogues and others houses of worship throughout the nation and around the world. This issue could once have been common only in developing countries, but examples here in the Diocese of Venice bring this issue home.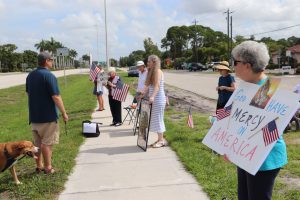 "This has been a trend in our society, when symbols of a faith community are attacked," Bishop Dewane said on his radio show. "There used to be an unwritten rule of respect, but we must speak up for every House of God and faith that is disturbed or vandalized in an attempt to defame representations of faith."
Bishop Dewane ended his remarks explaining that when it comes to having religious freedom, the Church "is not asking for something special. No, these rights were given. It is a right we do have, each one of us, as citizens of this country. We must all follow the USCCB formula – Pray – Reflect – Act – which demands the most of us, in a political way, to demonstrate and speak out for the protection of our rights."
As we celebrate the Fourth of July, remember to pray that the freedoms celebrated on this day, including freedom of religion, continue to be respected and protected.
To learn about the what the USCCB is saying about religious liberty, please visit https://www.usccb.org/committees/religious-liberty.
 For anyone interested in participating the Naples prayer vigil, they will resume on the last Friday of October and continue monthly going forward. For more information, you can contact Patricia Bucola at world5433@gmail.com.