Two groups of youth from St. Michael Parish in Wauchula participated in separate camping trips to the mountains of north Georgia in a journey designed to develop self-confidence while at the same time helping to build a stronger relationship with the Lord.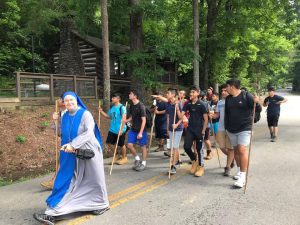 Twenty-two young men travelled from June 7 to 15, 2021 to Vogel State Park in Blairsville, while the 25 young ladies were there from June 17 to June 25.
While based at the state park, the groups began each day with morning prayers, then travelled throughout the region and made certain to attend daily Mass at one of the local Catholic Churches. The evening routine included 30 minutes of talks and small group discussion, 30 minutes of Adoration of the Blessed Sacrament, followed by dinner and light recreation such as board games and ping pong.
Days were filled with a variety of activities, including daily hiking, rafting, swimming, as well as visits to water parks and more casual walks through mountain towns. Two destinations included Brasstown Bald, the tallest peak in Georgia at 4,784 feet, and whitewater rafting on the Middle Ocoee River near Ducktown, Tennessee. The one difference between the two youth trips was the men opted to take part in a paintball course, while the ladies chose horseback riding,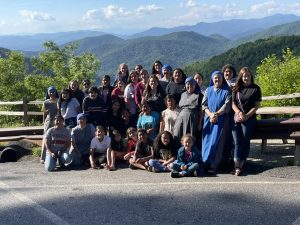 One young man described his camp experience saying, "This year's boys summer camp was above my expectations. This would have to be the best one I have been to. It had an equal amount of fun and spiritual learning. The highlights would have to be paintball and whitewater rafting. I also looked forward to the talks we would have in the evening. Overall, I enjoyed it. I will definitely go for years to come."
One of the young ladies described here experience saying, "This year's girls summer camp was everything that I hoped for. I was glad that COVID-19 didn't stop us from going to Georgia as it did last year… The hikes were challenging, but they taught me not to give up even when things are hard to do. In the end, I was able to reap the reward of the beautiful scenery at the mountain tops. We went tubing, horseback riding and ate ice cream. We began each day with morning prayers and finished the day with Adoration of the Blessed Sacrament. We were always well fed. My favorite activity was white water rafting. I have been going to this camp since 2017 and by far this was my favorite year."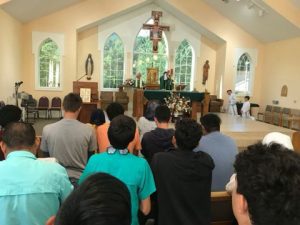 Another young lady described the trip as the one of the best decisions she has ever made, explaining how she grew in her Faith. This occurred not only through the participation in Mass, prayers and Adoration, but through being in the forest amongst nature, reaching magnificent vistas and seeing waterfalls, all part of the glory of God's creation. While she said there were challenges, she returned home with new and amazing friends and memories to last a lifetime.
The groups were led by religious women from the Parish, the Servants of the Lord and the Virgin of Matará, and they were assisted by a number of adult chaperones. Father Juan Lorenzo, St. Michael Parochial Vicar, was able to participate in the first five days of the boy's camp.
Sister Maria Gema de Jesus Ruiz, SSVM, Director of Religious Education at St. Michael, who organized the trips, said that they "enabled everyone to overcome unexpected obstacles placed before them and to grow stronger in their Faith at the same time by putting their life and experience into the Hands of God."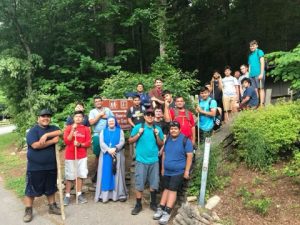 Sister Gema said the trip was made possible thanks to a number of benefactors and with the support of Bishop Frank J. Dewane. "It has been an incredible experience for them, and we pray to our good Lord they will always remember the good things they learned."
The religious sisters have a short time to rest as they will be hosting a two-week day camp at the Parish for elementary-aged children from July 5 to July 16.
If you would like to support the children and youth programs led by the religious woman at St. Michael Parish in Wauchula, please send donations to: St. Michael Church, Attn: Sisters Program, 409 Alice St., Wauchula, FL 33873.