Fasting, almsgiving, and prayer are the three traditional disciplines of Lent, but we are reminded to do these things privately because the Lord knows us and what we are doing.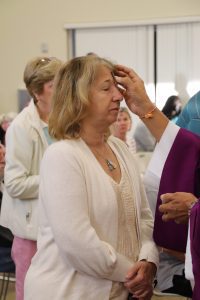 Grand displays are not what the Lord wants, explained Father Robert Tatman, Parochial Vicar of St. Jude Parish in Sarasota. The clear example of this is represented in the ashes marked on one's forehead to open Lent on Ash Wednesday, March 2, 2022.
"They don't last very long, but it is not something we want to wear on the outside, just to be seen," Father Tatman said. "We want it to cleanse and purify our inner heart."
In addition to opening the Lenten Season, which concludes on Holy Thursday, April 14, on Ash Wednesday the faithful across the Diocese of Venice joined in fasting and prayer for peace in Ukraine as called for by Pope Francis.
As Bishop Frank J. Dewane noted in a letter to the faithful on March 1, "Our Catholic Faith calls each of us to care for those in need, and, at this time in particular, for those who are suffering in the wake of this terrible tragedy."
In the letter, Bishop Dewane stated that donations made to the collection on Ash Wednesday will support charitable relief for the Ukraine and assist in providing humanitarian aid, as well as necessary recovery efforts.
For those not prepared for the collection, donations may be sent to the Diocese of Venice, with "Ukraine" indicated in the memo or note line at the following address: Diocese of Venice in Florida, Ukraine Relief, 1000 Pinebrook Road, Venice, FL 34285.
As the Lenten Season progresses, the precept of confessing grave sins and receiving Holy Communion at least once during the Lenten Season merits a reminder to all. To facilitate this requirement, every Parish in the Diocese of Venice will be open with a confessor present from 4 p.m. to 8 p.m., on Friday, April 8, and from 9 a.m. to noon, Saturday, April 9. Check with your local Parish for additional confession times or the availability of a Penance Service. These opportunities are made available so that the faithful may find ample opportunity to receive God's Mercy in the Sacrament of Reconciliation during the Lenten Season.