Father Onorio Benacchio, Congregation of the Missionaries of St. Charles (Scalabrinians), who was a priest for nearly 70 years and served in the Diocese of Venice for 25 years, died April 23, 2020, in Kingston, Rhode Island. He was 95.
Father Benacchio served as Pastor of St. Margaret Parish in Clewiston from 1994 to 1996 and then as a Parochial Vicar at Our Lady of Guadalupe Parish in Immokalee from 1996 to 2019.
Born April 15, 1925 in South Nazario, Vicenza, Italy, to Gaetano and Caterina Benacchio, it was at the age of 12 when he entered the Scalabrinian Seminary in his hometown. Father Benacchio took his first religious vows on Sept. 4, 1943, and was ordained to the priesthood, June 18, 1950 in Piacenza, Italy, when he was 25.
Following his ordination, Father was appointed to serve the poor in missions in South America in accordance with the Scalabrinian Charism. He spent 36 years attending to the needs of the missions in Brazil and then eight years in Venezuela.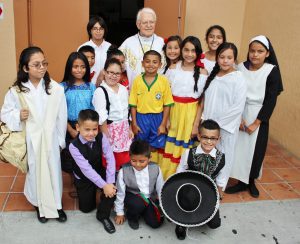 He came to the United States and the Diocese of Venice in 1994. He was 69 at the time. He served as Pastor of St. Margaret Parish in Clewiston before being transferred for the final time in his long ministry to Our Lady of Guadalupe Parish in Immokalee. There he celebrated Mass is English, Spanish and Creole, while also celebrating Mass for the Portuguese-language Catholic community each weekend in Fort Myers.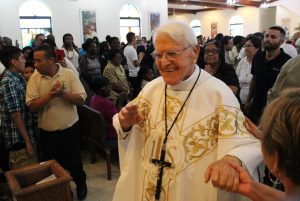 During a Mass marking the occasion of his 65th anniversary of his Ordination to the Priesthood, Father Benacchio estimated he had celebrated Mass more than 25,000 times. "But celebrating Mass today, after so many years, still feels like it is the first time… It is what I do, what I always do and what I will always do. It is at the heart of what a priest is all about, that moment when you are closest to Jesus Christ."
His favorite memories included his extensive time and travels in South America. To help relax, he liked to write poetry.
A memorial Mass will be held at a later date while the public celebration of Mass has been suspended in the wake of the coronavirus pandemic.