Msgr. Finegan remembered as a gentle giant
Msgr. Gerard "Gerry" Finegan was known to wear many hats – confessor, confidante, friend, mentor, competitor and much more – but for most people who knew him, he was a gentle giant with a nice Irish accent who was also their Parish priest.
Msgr. Finegan died on Feb. 3 surrounded by family and friends. He was 77. For those who knew the longtime Pastor of Incarnation Parish and Chaplain at Cardinal Mooney Catholic High School in Sarasota, and recently retired Pastor of St. Mary, Star of the Sea Parish in Longboat Key, his passing from this earth struck many very deeply.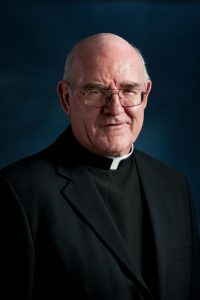 Hundreds commented on social media in response to the announcement of his passing. Many shared their personal stories of Msgr. Finegan; of how he presided over the marriage, baptism, First Communion, Confirmation, or funeral of various family members through the years, noting the twinkle in his eye and genuine concern about their well-being, no matter what.
A Mass of Christian Burial was held Feb. 7 at Incarnation Parish, with Bishop Frank J. Dewane as the Main Celebrant and dozens of priests of the Diocese concelebrating, including Bishop Emeritus Robert Lynch of the Diocese of St. Petersburg.
Father Eric Scanlan, Administrator of Incarnation Parish and former Parochial Vicar at St. Mary, Star of the Sea under Msgr. Finegan, was the homilist and shared his personal reflections on the man he viewed as friend and mentor. He noted that a priest is called not only to follow Jesus but to go beyond that; to be the one who stands in the person of Jesus Christ (in persona Christi).
"In losing a priest, we not only lost a man but the unique way he showed us God," Father Scanlan said. "His priestly presence was Christ in our world, was Christ to each one of us; and no one will ever again show us Jesus Christ the way that (Msgr.) Gerry did. That is a real sadness and a real loss."
Bishop Dewane spoke of the tremendous contribution Msgr. Finegan made to the Diocese through the years. He noted that he was not just assigned to Incarnation Parish, but in fact he was Incarnation Parish. Whether at Incarnation or St. Mary, Star of the Sea, Msgr. Finegan was passionate about his commitment to the people.
"He was a man of faith who had no trouble putting that out to show everybody," Bishop Dewane said. "The loss to the Diocese is great, but it is also a loss to his family and his many friends. My prayers go with you as you return to Ireland."
A native of Ireland, Msgr. Finegan was born Jan. 1, 1943, in Cavan, County Kildare, to Joseph and Mary Finegan. He attended St. Patrick College, Maynooth, Ireland. He was Ordained to the Priesthood on June 18, 1967 at St. Patrick's and Felim's Cathedral in Cavan for the Diocese of St. Augustine. Monsignor also served at Parishes in Safety Harbor, Largo and was Chaplain at Clearwater Catholic High School, before his 1972 assignment as Parochial Vicar of Incarnation and Chaplain at Cardinal Mooney in the then-young Diocese of St. Petersburg.
In 1976 he was elevated to Pastor of Incarnation and remained there until 2008 when he was named Pastor of St. Mary, Star of the Sea on Longboat Key where he served until his retirement in November 2019. As announced from the Office of the Bishop on June 11, 2010, then-Pope Benedict XVI, bestowed Papal Honors on Father Finegan, along with four other Diocesan priests, in recognition of their dedication and exemplary service to the Church. This Papal Honor elevated him to the rank of Monsignor, as Chaplain to His Holiness. The group of priests was the first recipients of this honor in the history of the Diocese of Venice.
Passionate in his devotion to the Blessed Virgin Mary, Msgr. Finegan recited the Angelus at noon and 6 p.m. without fail, regardless of what he was doing. In his rare free time, he played multiple sports in his youth and later enjoyed racquetball, tennis, golf and playing cards. He also regularly returned to Ireland to visit family and friends.
Msgr. Finegan is survived by his sisters: Mary Tunney, Aine Connolly, Catherine O'Leary, Brigid Duffy, Josephine Finegan; six nephews; six nieces; 16 grand nephews, nine grand nieces, and countless friends. Please make memorial contributions in Msgr. Finegan's name to Incarnation Catholic School. Burial will be in Ireland next to his parents.