The Diocese of Venice, "Together in Holiness" Marriage Conference, presented in partnership with the Diocese Office of Family Life and the St. John Paul II Foundation, took place Oct. 22, 2022, at St. John XXIII Parish in Fort Myers and was a huge success.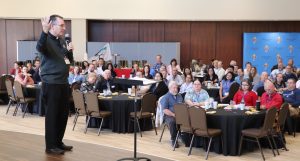 More than 100 couples took part in this event which was intended to allow couples to grow together in holiness, learn to form their children in the Catholic Faith, enjoy a day of quality time with their spouse, and witness dynamic presentations.
The day also included the Mass, Exposition of the Blessed Sacrament and the availability of the Sacrament of Reconciliation.
One couple from Naples said they were impressed not only by the speakers, but by the supportive atmosphere the conference offered. "This was such a nourishing environment for us and a great boost for our marriage."
Bishop Frank J. Dewane addressed the couples, impressed by the numbers and encouraged by their enthusiasm in a society in which the very definition of marriage is under attack and calls for a modern form of spiritual battle as a response.
"Know that the Lord sees the good you have set out to do this day by being here as a couple, as spouses," Bishop Dewane said. "You continue to do that spiritual battle – against everything that is around us in society that really attacks your very vocation – that concerns me a great deal. I do believe the vocation of marriage is under attack which is destroying the moral fabric of society. This conference is present so that you, together, can work on building this beautiful vocation back up."
The first presenter was Father Shawn Monahan, OMV, Associate Director of Our Lady of Perpetual Help Retreat Center in Venice, whose talk was titled, "The Holy Eucharist: The Source and Summit of Marriage and Family Life."
Father Monahan explained how when a couple gets married, Christ also makes a promise to them to help live out that vocation and to empower them to mirror His love for His bride the Church profoundly through the Eucharistic embrace which is both at the heart of Christian life and the Sacrament of Marriage. "It takes three to get married, Father said. "And God is the third person."
Christopher J. Stravitsch, Chair of the St. John Paul II Foundation, talked about "A Family that Prays Together." Building upon what St. John Paul II taught, Strevitsh said families have a "priestly mission" that includes living a life of prayer together in the home – husband and wife together.
Damon and Melanie Owens, cofounders of Joyful Ever After, also spoke and their topic was "To Love and to Cherish: Deepening Love and Intimacy in Marriage." Their presentation focused on the significance of cherishing the most important person in one's life, their spouse, even in the face of the challenges and demands of daily family life.
What's Next
Couldn't make the conference? Looking for other opportunities for marriage enrichment? As a complement to the conference, the St. John Paul II Foundation and the Diocese of Venice invite all married couples to participate in the Together in Holiness Formation series: year-round marriage enrichment for small communities of spouses.
Highlights of the Formation series include short and beautifully-made videos with national speakers, themes that are based on the life, teaching, and witness of St. John Paul II, and Bring it Home activities that translate learning into living. The series is also available for Spanish-speaking couples through captioned videos and translated materials. Click here to view a trailer!
To get involved, please complete an interest form here. For questions, please email Program Coordinator Charlotte Sacco at charlotte@forlifeandfamily.org.