Progress being made in removing debris on Fort Myers Beach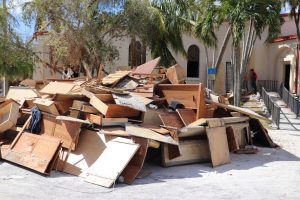 Debris removal at Ascension Parish and the San Damiano Monastery of Saint Clare on Fort Myers Beach is well underway. The property was inundated with more than 12 feet of storm surge from Hurricane Ian on Sept. 28, 2022.
Contractors are working hard to mitigate any further damage by removing the large debris from the interior of the church, rectory, Parish Hall, and monastery which were all wrecked. Plywood was placed over each broken window while destroyed equipment, furniture and pews were removed, clearing the way so mitigation from further damage could take place. This mitigation includes drying out each building.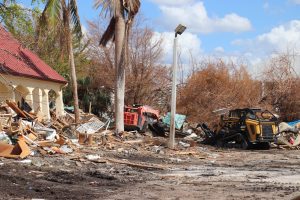 The property has no power or running water, so contractors brought their own generators to run some equipment. Additionally, crews are actively removing the remains of nine houses which littered the property after being pushed by the surge. The clearing of this debris will allow better access to the property which has been limited.
In addition, Knights of Columbus disaster response members from several Diocesan Councils, including from Ave Maria where the Poor Clare nuns are temporarily residing, have been assisting in retrieving and salvaging religious and personal items from the debris of each of the buildings. Items that could be saved but cannot remain on the property during the rebuilding process were taken to secure locations to be cleaned and stored before they are returned to the Parish and monastery at a later date.
To learn more about the plight of the priests and Poor Clare Nuns who were in the monastery during the hurricane, please read the previously published articles at
https://dioceseofvenice.org/ascension-parish-and-monastery-clean-up-begins or https://dioceseofvenice.org/total-devastation-parish-church-and-monastery-on-fort-myers-beach-a-shambles
Therapy dogs visit Diocesan Catholic schools in Lee County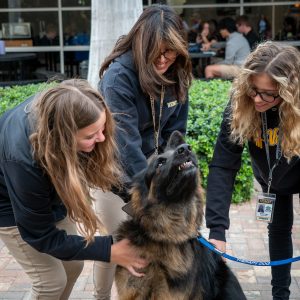 Furry friends are making special visits to the three Diocese of Venice Catholic Schools in Lee County following Hurricane Ian. The therapy dogs are visiting St. Andrew Catholic School in Cape Coral, St. Francis Xavier Catholic School in Fort Myers, as well as Bishop Verot Catholic High School, also in Fort Myers.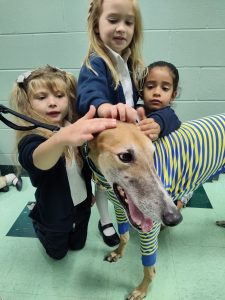 The first visit was to Bishop Verot on Oct. 19, 2022, where the dogs were brought to the school courtyard where students were able to pet and hug the dogs to their hearts content. These dogs also visited the elementary schools and are returning several days a week to ensure each student has time with the dogs.
These therapy dogs are specially trained to be around large groups of people and are a good way for the students to have smiles and laughter even though dozens of students and staff lost homes or had significant damage during the hurricane. One teacher at Bishop Verot said everyone in the school suffered some sort of emotional trauma from the hurricane and having the therapy dogs visit was a time to allow everyone to forget, even for a moment, what they have been enduring during the past month.
Students help to package meals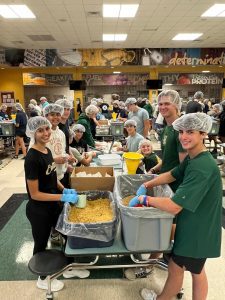 Members of the St. John Neumann Catholic High School Key Club joined students from other Naples-area schools to package 50,000 meals with the group Meals of Hope on Oct. 22, 2022. Typically, these packaged meals would be sent off to needy countries around the world, but because of the impact of Hurricane Ian, the food will remain in Collier County to help victims of the hurricane. The Key Club at Neumann is a service club which participates in a variety of projects helping people in need throughout the community.
Newest disaster relief site now open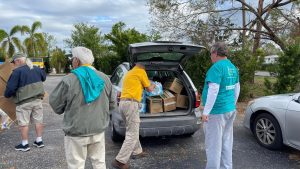 Catholic Charities, Diocese of Venice, Inc. is now providing water, ready-to-eat meals, baby items, hygiene kits, tarps, and other essential supplies for distribution in the parking lot behind the Ministry Center of St. Charles Borromeo Parish, 21505 Augusta Ave., Port Charlotte. The disaster distribution point opened on Oct. 19, 2022, and is open 9 a.m. to 1 p.m., Monday to Saturday, in the parking lot behind the Parish school, at Augusta Avenue and Gates Avenue. Catholic Charities is currently operating six disaster distribution sites, down from a peak of 10 in the immediate aftermath of Hurricane Ian. The locations change as the needs of the community and the response transitions to more of a recovery mode in different areas.
If you need help
Please visit www.catholiccharitiesdov.org. There you will find an updated list of disaster distribution points for supplies. This list is updated at the end of each day and will change often as the focus of the recovery shifts and the different needs are understood.
How to Help
If you would like to support the Diocesan response to Hurricane Ian, please visit www.dioceseofvenice.org/hurricaneian, or send a check to Diocese of Venice in Florida, ATTN: Hurricane Ian Relief, 1000 Pinebrook Road, Venice, FL 34285.
Volunteering
If you are interested in volunteering, please visit www.catholiccharitiesdov.org to find a list of disaster distribution points where volunteers are needed for loading vehicles, sorting supplies and additional assistance.
Additional help
The Diocese will hold a special second collection for Hurricane Ian relief on the weekend of Oct. 22-23 in all Parishes. Also, please contact your local Parish to learn about collection drives for hurricane supplies.
The Diocese of Venice extends its thanks to everyone for their continued prayers and outpouring of support as the recovery from Hurricane Ian continues.