The Bishop Verot Catholic High School Viking football team from Fort Myers defeated the Cardinal Mooney Catholic High School Cougar football team from Sarasota on the gridiron 27-24 on Oct. 21, 2022.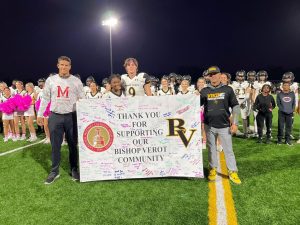 The final score of the hard-fought game was irrelevant as the two schools put aside their rivalry and came together in the wake of the devastating impacts of Hurricane Ian. The Fort Myers region was hard hit by Ian and many students, staff and faculty lost their homes. The Sarasota area did not have near as much damage, but impacts were felt, and the homes of several families were badly impacted.
Although sorrowed by their own losses, the realization by the Cougar football team that their rivals were hurting even worse caused them to spring into action. This included a school-wide effort to collect much needed disaster relief items. On Oct. 20, Mooney players and coaches loaded up a truck with these donations and delivered them to Fort Myers where they were given to needy members of the Verot community.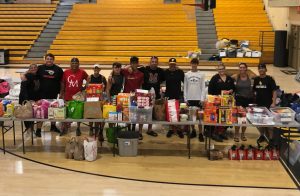 This gesture did not go unnoticed. Just prior to the opening kick-off, the entire Verot football team and cheer squad, accompanied by their coaches, crossed the field carrying a banner which read "Thank You for Supporting our Bishop Verot Community." The banner included the school logos as well as the signatures and individual "Thank you" messages from each player, cheerleader, coach and support staff.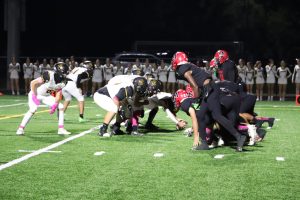 This act of Christian character and class brought a roar of approval from the Mooney grandstands as the banner was brought forward and the two head coaches shook hands. As a Cardinal Mooney social media post after the game stated: "Sometimes it is so much more than football."
The game served as the Mooney homecoming and included honoring multiple graduating classes, with a special emphasis on the class of 1962, the first graduating class at Cardinal Mooney. At various moments before the game and during breaks, these special alumni were recognized.