Catholic Charities Diocese of Venice, Inc. (CCDOV), the charitable arm of the Diocese of Venice in Florida, received a significant contribution from Geneverse Energy, Inc., valued at $235,000. To help with the aftermath left behind by Hurricane Ian in the Diocese of Venice, Geneverse has donated more than 100 solar-powered generators for those in need.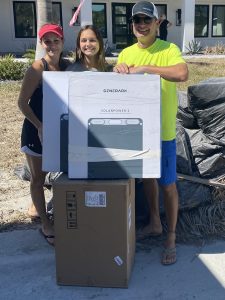 Many of these generators were distributed by Catholic Charities to families who suffered catastrophic damage from the hurricane in some of the hardest hit areas of the Diocese including Fort Myers Beach, Pine Island, Estero, Fort Myers, Cape Coral and beyond.
On Oct. 24, 2022, a team from Geneverse met with some of the recipients of their solar generators and heard harrowing stories of fear and desperation as the howling winds and rising storm surge from Ian encircled their homes.
Symantha Campagnolo, and her daughter Olivia, a 7th grader at St. Andrew Catholic School in Cape Coral, were among the recipients of a new solar generator and shared their experience during and after Ian.
They live in Fort Myers, close to the Caloosahatchee River, but felt they were prepared for Ian, until they saw the water rise and their gas-powered generator fail early in the storm. Their home was flooded, and they had a lot of damage and lived without electricity for nearly two weeks. The donation of a solar-powered generator offers peace of mind for the future.
"Thank you so much for this solar-powered generator," Campagnolo said. "I was afraid to operate what we had; and it turns out it didn't work at all. This is so easy. And I can charge it and not worry about the danger of having to fill it with gas."
Olivia was impressed by the technology that comes in the compact-sized generators and how a few solar panels, laid out in the yard, will charge to full capacity in about two hours. "That is amazing. It is perfect for what we needed in the days after the storm when you can't find gas anywhere."
Geneverse provided several types of solar-powered generators, each valued between $1,300 and $6,000, depending on size. The generators are quiet, safe for indoor use, and designed to help homeowners run their essential electrical items – such as refrigerators and cell phones — on their own power in the event of a power failure.
Anson Liang, Chief Executive Officer of Geneverse, Inc., said he was pleased and proud the company was able to help.
Liang, who founded Geneverse after a severe power outage in his San Francisco Bay Area neighborhood, said "Our product is designed to help in emergency situations like the Diocese of Venice has just experienced, in the aftermath of hurricanes like Ian. Solar panels capture the sun's energy, convert it into electricity, and store it in a backup battery power station for immediate or later use. It's perfect for people who live in Florida, with all the sun."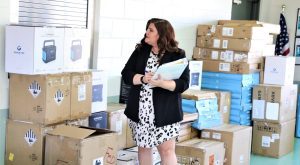 Eddie Gloria, Catholic Charities CEO, said the organization has been at the forefront of the disaster response and said he is thrilled to have this generous and much-needed help from Geneverse.
"We still have clients that are displaced or in the beginning stages of rebuilding, and these generators will go a long way to help ease the burden and help them on their journey to recovery," Gloria said.
Father John Belmonte, SJ, Diocesan Superintendent of Catholic Education, was impressed by the solar-powered generators as well, and grateful that several Catholic school teachers and families received the generators.
Father Belmonte also witnessed a demonstration at St. Andrew as a science teacher set a generator out in a field and very quickly was able to have enough of a charge to run a toaster and charge an iPad, impressing his students, but they also wanted assurances that the generator was capable of running a gaming console. It can, plus many other items all at once.