By Bob Reddy – Florida Catholic
November is an appropriate time to remember those who have died, that they may someday be accepted into heaven.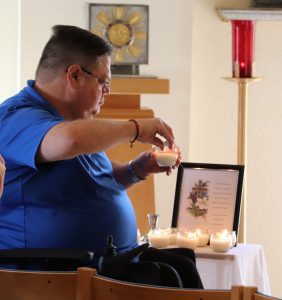 For this reason, Bishop Frank J. Dewane invites the Permanent Deacons and their wives to participate in a Memorial Mass each year as a time to pray for, honor and remember the Deacons and their wives who have passed away. The 2019 Mass was celebrated on Nov. 5 at Our Lady of Perpetual Help Retreat Center in Venice. Today, there are more than 75 Permanent Deacons, many seasonal, living and serving throughout the Diocese.
The goal of the Memorial Mass is to bring attention to all the Deacons, and their spouses, who have served in the Diocese of Venice since its founding in 1984, not just to remember them, but to thank them for answering the call of the Lord in a precise way, Bishop Dewane explained.
As part of this annual tradition, during the Prayer Intentions, the names of those who have passed away during the previous year are solemnly read as candles are lit in their honor. Included in the list of names this year were Deacon Joe Bortland, Deacon Frank Camacho, Deacon Ed Lundy, Deacon Ed McCarthy and Deacon Sam Puleo, as well as Asuncion Guzman, Mae Ochner, and Sandi Paniccia.
"We gather here to give praise for Christ's Victory over sin and death, and to remember those who came before us," Bishop Dewane added. "The memory of their sacrifice and the belief that they had in giving glory and praise to God throughout their life – each according to a particular role as a Deacon or a spouse."
"We come together for a Memorial Mass not only to give praise to Christ but to commend the deceased to God's tender mercy and compassion and to seek strength in the proclamation of the Paschal Mystery," Bishop Dewane continued. "So, we honor not just the individual but that glory and praise they gave to God."
Deacon Michael Reardon, the Diocese Director of Diaconate Personnel, who spoke on behalf of the deacons and their spouses who were present for the Mass, thanked Bishop Dewane for the Mass and his ongoing support of the Deacons serving in the Diocese.