Remembering those who have gone before, Bishop Frank J. Dewane celebrated the annual Memorial Mass for deceased Deacons and their wives on Saturday, Nov. 18, 2023, at Our Lady of Perpetual Help Retreat Center in Venice.
The Mass is held in November to coincide with the Month of All Souls. In addition to Deacons and their spouses, also present were members of the Permanent Diaconate Formation Classes of 2025 and 2028 and their spouses.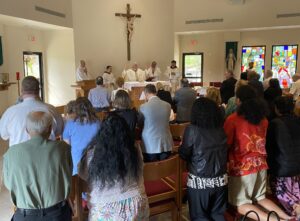 The readings of the day were from All Souls Day (Nov. 2), when the faithful learn that God has provided life and an afterlife through His Son, Jesus Christ.
"We learn that death is not an end in itself," Bishop Dewane said. "The Lord took the souls of the departed Deacons and their wives to Himself, fulfilling that promise of life ever after."
Bishop Dewane explained that being a part of the Permanent Diaconate is a unique responsibility within the Church, resurrected following Vatican II. Since the Diocese of Venice was created in 1984, the Bishop said Deacons are following in the footsteps of their predecessors.
"The role of the Deacon is the idea of a ministry of service within the Church," Bishop Dewane said. "The calling of a Deacon is to imitate the goodness and love that is God and be a beacon for others."
The Memorial Mass brings together those Deacons, and their wives, serving today while honoring the memory of those who have served in the Diocese of Venice since its founding. Appropriately, it is a time of expressing gratitude to all for their answering the call of the Lord in a precise way.
Bishop Dewane concluded his homily by saying, "For all of the Deacons and their spouses who have gone before us and we no longer see, I end by saying: 'Alleluia! Alleluia! Alleluia!'"
As part of this annual tradition, during the Prayer Intentions, the names of those who have passed away during the previous year are solemnly read as candles are lit in their honor. Included in the list of names this year were Deacon Rich Spiro, Deacon William Cassidy, and Frances Pennypacker.
Today, there are more than 6o Permanent Deacons, many seasonal, living and serving throughout the Diocese of Venice.